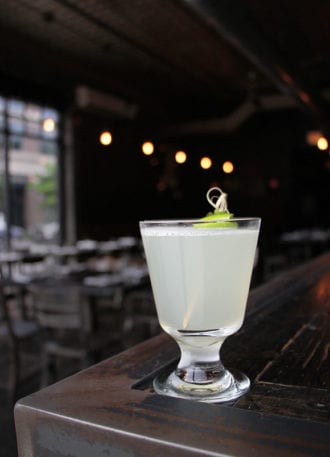 With such a simple build, the classic Daiquiri is one of the most riffed-on classic cocktail recipes. The best variations tend to be subtle and stay true to the classic recipe, but there are a some interesting remixes that stray a bit further outside the box, too. Here are some ways to experiment at home.
Vintage Relatives
A handful of well-known Daiquiri variations have been making the rounds for decades. The Floridita cocktail—the house drink at the venerable Floridita bar in Habana Vieja—sets the pace with the addition of maraschino liqueur. And the Hemingway Daiquiri, also born at El Floridita, follows suit with maraschino plus a splash of grapefruit juice. The Brooklynite is another popular twist featuring honey instead of simple syrup.
Seasonal Shifts
One way to spruce up the classic daiquiri is by adding ingredients that align more closely with the turn of the seasons. For summer sipping, coconut water and pineapple gum syrup help brighten up the Downtown Daiquiri, while pineapple shows up at Grass Skirt in San Diego, where the house daiquiri is made with 1 oz. each of Navy Strength rum and Plantation Pineapple rum, with ¾ oz. each of Demerara syrup and lime juice. Jeff "Beachbum" Berry adds orange juice and a vanilla syrup in Latitude 29's Luau Daiquiri, and if you want even more tropical personality in your drink, a little banana liqueur elevates Geraldine's Banana Daiquiri.
On the flip side of the calendar, date syrup makes the Casablanca cocktail perfect for cold-weather sipping, and a housemade pomelo falernum highlights winter citrus in Townsend's Shaddick Daiquiri. In the aptly titled Cold Front Daiquiri from Standby in Detroit, a spiced demerara syrup adds ginger, vanilla, cardamom and other baking spices to the lineup, and when creme de cacao supports aged rum, as it does in the Ace of Clubs from Rumba in Seattle, the chocolatey notes also hint to cooler temps.
Getting Loose
You can't stray too far from the traditional rum foundation and still call a drink a daiquiri, but there are ways to channel the spirit of the drink and still have the results loosely reference the original. In Kyle Webster's Scandinavian Daiquiri aquavit lends a savory note to the mix. And earthy rhum agricole is a popular substitute for molasses-based rum, as seen in the house daiquiri at La Sirena Clandestina in Chicago (pictured above), which also features fresh-pressed sugarcane juice and lime. Agricole anchors pineapple liqueur and orgeat in the Daiquiri D'ananas, and avocado steals the show in Lucy Brennan's Avocado Daiquiri.
Italian amari have also be surfacing in some Daiquiri riffs. At Manifesto in Kansas City, Ryan Maybee combines 1½ ounces of Fernet Branca with ¾ oz. falernum, ¾ oz. lime juice and ½ oz. simple syrup in the Farewell to Arms. And in Chicago at Eight Bar and Patio, the Fernet Daiquiri goes for a spin in the slushie machine.
---
Like what you see? Get more of the best of liquid culture when you sign up for our bi-monthly magazine. Subscribe now and save up to 59%—it's just $21.95 for one year or $32.95 for two years. Click here for details.