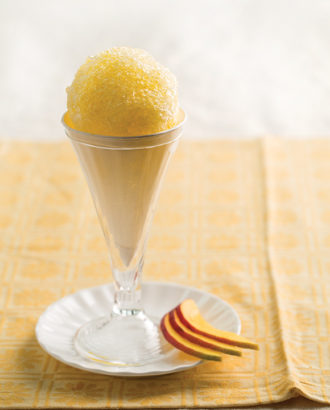 Celebrate summer with this fresh take on a Mexico City street-cart favorite—shaved ice flavored with mango, chile and lime.
2 large, ripe mangoes, peeled and coarsely chopped
¾ cup granulated sugar
1 cup water
1 arbol chile (optional)
1 ½ tbsp. fresh lime juice
1 small pinch of salt
Shaved ice
Combine the mangoes with the sugar, water and the chiles (if using) in a medium saucepan over moderate heat, stirring until the sugar dissolves. Simmer for 10 minutes, stirring occasionally. Allow to cool, blend (if using chiles, strain out before blending for a mild kick or leave in for more spice) and stir in the lime juice and salt. Overfill small cups or dishes with shaved ice and drizzle generously with the syrup. Serves 8.
Fany Gerson, La Newyorkina, New York City