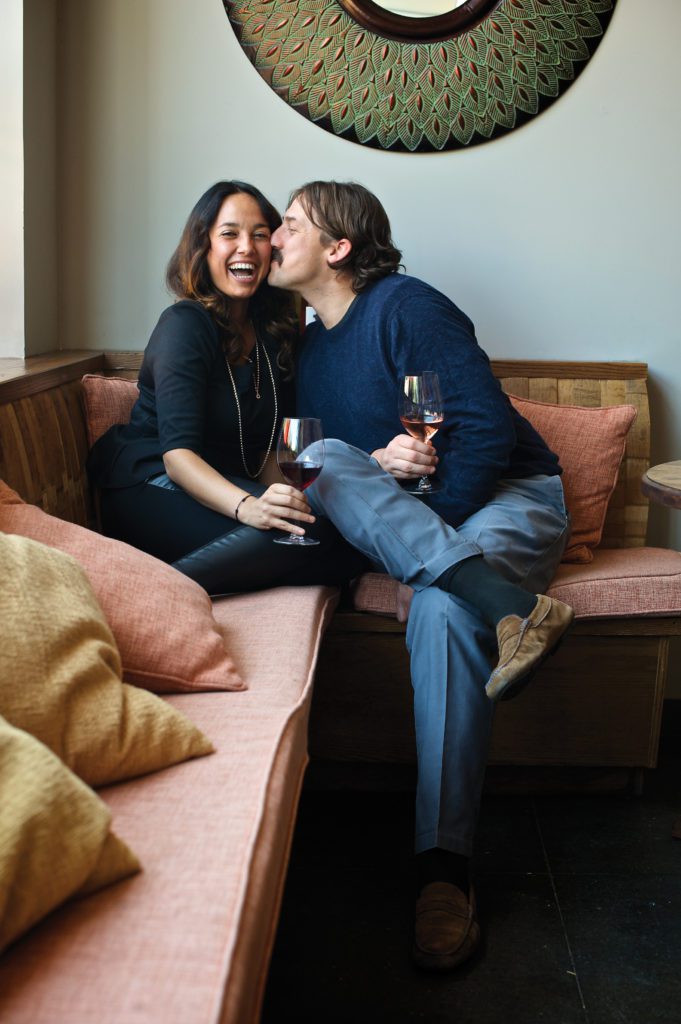 Kate and Tom Monroe—the duo behind Division Winemaking Company and the Southeast Wine Collective—are one of those rare examples of couples that work well together at home and on the job. Here, they chat about how they fell in love with Oregon wine, how they balance work and play, and the biggest challenges—and perks—of being partners in life and business.
Imbibe: Did you two fall in love with wine separately, or together?
Kate Monroe: We fell in love with wine separately, but I guess you could say Oregon wine together. On our first date Tom and I had a bottle of Oregon Pinot Noir way before we even knew we were going to get into the wine industry or even move to Oregon. That was the start of our wine love together.
Tom Monroe: It kept coming back to Oregon—we had Oregon wine on our first date; we had one of those bottles that kind of shines down on you at Chez Panisse that was made by an Oregon winery—it caused us to come up and visit.
KM: And when Tom and I got married in Sonoma, we served only Oregon wine at our wedding. We don't tell California that.
When did you decide to own and operate a winery—and wine collective—together?
TM: There were three big moments. The first one came on Christmas Eve. We were sitting around eating oysters and drinking Champagne and after talking about Oregon for two years we made the decision to pack up our car and move. We filled our car, put our dog in the back and spent two weeks driving across the country. We were fortunately quickly able to get into the wine industry.
KM: The wine industry here is so accepting and it just spoke to the fact that we'd made the right choice about moving here. There were so many people who were supportive of our dream even though they didn't know us.
TM: The second big thing was when we started the wine brand. We met someone who needed help with their winemaking and they traded us some fruit, and that just snowballed. The really big decision came with whether to start the collective.
KM: We thought about making wine in the [Willamette] Valley for a while, but one day after looking at properties, I turned to Tom and said, "I have to be really honest with you—if we have a winery in the Valley I might end up killing you." We'd be out there by ourselves. We're city folk and like being in town. I think that moment of honesty in our relationship stemmed growing the collective—having it six blocks from our house is amazing.
How do you balance your separate roles at the winery?
TM: We have a scheduled business meeting every day with each other that bridges the two worlds that we're running.
KM: It also allows us to talk about the winemaking. Tom is definitely on the operational side of the winery and I'm on the organization side of the collective, so we talk to each other about those aspects. But I think the most important part of the meeting is talking about the wine and making decisions regarding the winemaking together. It's really different working and being in love with your partner. It takes work every single day—it takes patience, understanding and a lot of love—but at the same time, I wouldn't want to do it with anybody else.
Do you guys always see eye to eye?
TM and KM: [Laughing] Absolutely not!
KM: But I think that we find a way to talk about our difference and be honest with each other. Sometimes I have to say the hard things, and sometimes Tom does. It may be painful for the other one to hear, but it means we're looking out for each other and our businesses.
TM: I don't think there's a situation in the world where two people will see eye to eye on every issue. What we've tried to do by meeting regularly and communicating as much as possible is make sure that when there are things we don't see exactly the same at least we have a system for how to talk through it. And at a certain point, sometimes you just have to acknowledge that it's not 100 percent how you would do something, but you can trust this person to handle it.
KM: We have another rule—we're not allowed to have meetings in our bedroom. You have to separate your work life from the other side.
What have been some of the biggest challenges running a winery together?
TM: The hardest thing for me is that we get these waves of a lot happening and it's really hard for us both to do everything we need to do and then find time to do all the things we want to do together.
KM: As Tom said, it's finding time to do the things we love. More often than not we end up burning the candle at both ends. That can make you tired and cranky and not the best partner at times, but it's 100 percent worth it.
And what's the biggest perk?
KM: We live the life we want.
TM: There's nobody dictating the way that our life is. We're responsible for it. That's also the biggest challenge, but it's the best motivator there is—knowing that if you don't do it, it won't get done.
KM: And at the end of the day you get to open that bottle of wine—it's pretty fantastic.