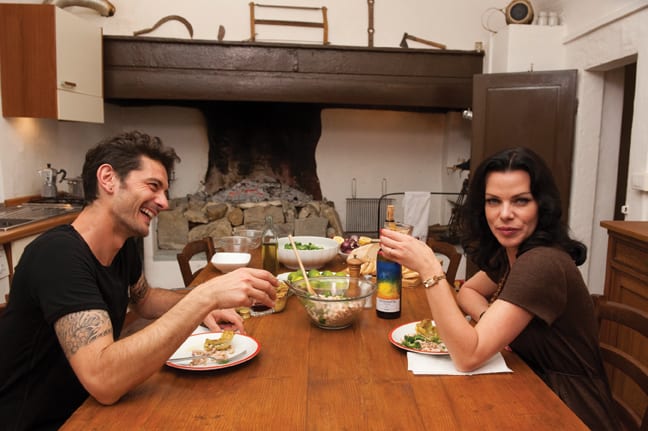 What do you get when a feisty girl from Queens marries a devoted Italian foodie? A thoroughly entertaining TV show starring Debi Mazar and her husband Gabriele Corcos. This is hardly Mazar's first time in front of the camera—her decades-long career includes memorable roles as a gangster's girlfriend in GoodFellas and as Vince's pushy publicist in Entourage—but it does mark her debut into the realm of food TV. Here the adorable couple takes time out from their entertaining show Extra Virgin, airing on the Cooking Channel,  to chat about splitting their time between Italy and Los Angeles, their go-to wines for everyday drinking, and the vineyard they hope to replant on their 14th-century Tuscan estate.
Imbibe: For starters, how do you guys take your coffee?
Debi Mazar: Well, my husband serves it to me every morning! We have a Moka pot that we absolutely love, and I have it with hot whole milk and sugar.
Gabriele Corcos: Same here, two cups each. I grew up in Italy where I fell in love with the Moka, and it's pretty much the only kind of coffee I can have when I first wake up.
Mazar: And after lunch we switch to macchiatos.
You both travel quite a bit to your estate in Italy—how does what you eat and drink there differ from what you eat and drink at home in Los Angeles?
Mazar: I think the biggest difference is that in Italy we drink tons of blood orange juice because you can buy it year-round. It comes from Sicily, and it's wonderful. Other than that, there's of course the wine. In Italy it's so available—the country wine from local farmers, Chiantis and super-Tuscans—and just sitting on the table at all times. You always sit down with family for lunch and dinner and the wine you drink with those meals is like opening up any fabulous bottle from any great vineyard.
Your property just outside of Florence used to have a vineyard on it—any plans to replant?
Corcos: We used to have a vineyard, and I remember making the wine with my grandfather when I was a kid. Then in 1985 there was a gigantic snowstorm and the vines got really damaged. We were able to harvest the fruit for a couple of years, but it wasn't good enough to make wine anymore, and eventually my grandfather passed away and the vines were ripped out. But we still have the land and the license, so we could replant whenever we wanted. But a vineyard is risky—all it takes is one bad week of weather and hundreds of thousands of dollars go down the drain in a second.
Mazar: It's something we'd love to do, but it requires a huge investment, and right now we're raising two young kids.
Corcos: And it's a long-term investment. It's not something where you plant the vineyard now and next year say, "Look, we have wine,"—you have to wait a couple of years for the vines to mature, then a couple of years to test your wine and eventually by the fifth or sixth year, if everything goes well, you're able to start producing.
So maybe your great-great grandchildren will be able to drink your wine.
Mazar: Exactly!
Corcos: No, no—I want to be able to drink my wine! But it's not happening in the next year. Once you plant a vineyard it becomes an everyday thing, and we're not ready for that.
We know you both love Italian wine and coffee—any other favorite drinks?
Mazar: One cocktail we absolutely love is the Negroni. The other ones we make, because we both have traveled to Cuba and my husband to Brazil, are the Mojito and the Caipirinha. Once in a blue moon I'll convince my husband to make a Mojito, but he makes them so small and we always want a second.
Do you believe drinking enhances food and visa versa?
Mazar: Absolutely. Say we're having a glass of wine with dinner and just as you take the last bite of some fabulous beef stew—if there's no more wine open it's kind of like, "Oh gosh, I kind of want that last sip to wash my mouth and mingle the flavors."
Corcos: Yeah, 100 percent. We almost always drink wine with our meals, really. It's a part of the Italian way of eating. Like today: I exercised, I'll chat with you and when I have lunch I'll probably have a sandwich with mozzarella and a glass of red wine. But that's how I grew up.
Mazar: And when he says a glass, he means almost like a thumb-sized amount. When we have wine we'll pour an inch or two in the glass to sip on, and that's always been Gabriele's way. Americans have these big wine glasses that we fill up like, "glug, glug glug, glug," and I've found that that is not a really good thing for me.
Do you have any bottles tucked away for a special occasion?
Mazar: Yes, but I can't say it now! I'll tell you, but you have to mute it for one second, Gabriele.
Corcos: Alright, muting.
Mazar: Our wedding anniversary is next week and I bought him a bottle of Tenuta Dell'Ornellaia from 2004. But as it turns out I think we have something going on during the day, that evening and the next day, so we'll see when we get to open it. [To Gabriele] Okay, you can come back now—did you hear what it is?
Corcos: No!
You renewed your vows on a recent episode of Extra Virgin. Did you toast each other with anything special?
Mazar: Yes! We toasted each other with Soffocone, which, by the way, means … [Editor's note: We've opted not to print what it means. If you're curious, Google it].
Corcos: It's a great super-Tuscan made by my neighbor, Bibi Graetz, who also produces the Testamatta and Casamatta wines you can get in the U.S.
Mazar: And at home in Los Angeles we always have Prosecco around for when we're going to pop something to celebrate with friends. In fact, that's something that I did even before I met Gabriele because I think most people really like that little bit of light sparkle.
You both have pretty hectic schedules, and a hit TV show to top it off. When the cameras are off, what do you kick back with after a long day?
Corcos: More wine! On the show we try to offer viewers a re-creation of exactly the way we live. Honestly, we drink a lot of young, red wine, where the average price is never more than $11 to $12 a bottle. If I treat myself to a gigantic steak we'll probably step it up with something in the $20 range.
Mazar: What's the brand I like a lot?
Corcos: La Selva. It's an organic wine made near the sea. They have more moisture there so the wine tastes different, and it's organic so you don't have the added sulfites.
What are you drinking tonight?
Corcos: Ruffino. The one we drink with a lot of our meals is their 2008 Chianti superiore, which I can find pretty easily for under $10 a bottle.