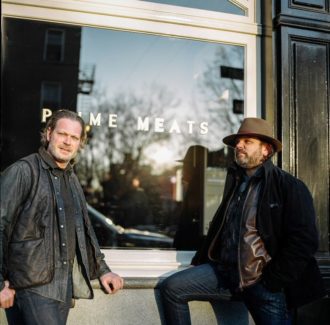 In any industry, being referred to solely by first name is a sign you've hit your career stride, and for lifelong friends, chefs and business partners Frank Falcinelli and Frank Castronovo—known simply as "The Franks"—success has flowed since opening New York's Frankies Spuntino in 2004.
With several restaurants and a cookbook, and now on break from filming season two of their show Being Frank on Vice, the pair took time out to chat about comfort cocktails, eating and drinking adventures, and what it's like to be half of a whole.
Imbibe: We've got to know: How'd you guys become known as The Franks?
Falcinelli: [Laughs] Well, it goes back to when we were born and our parents decided to name us Frank and Frank.
Castronovo: And now it's like an ID—Daniel Boulud is here, Thomas Keller is here and The Franks are here.
What's it like being half to a whole empire? Do you always get along?
Falcinelli: I think it's like any other relationship—you have your ebb and flow. Over the course of 10 years we definitely had our good times and our okay times. But the majority is a great time of creating things, dreaming about things and making it all come to fruition.
Your food is Italian comfort to its core—what's the ultimate comfort drink for you both?
Falcinelli: We're really influenced by what we're doing and where we're traveling. We were recently in Mexico, so we've been inspired by mezcal. When we were in alpine Germany we got really into schnapps, and in Sicily, grappa. Any others, Frank?
Castronovo: Exactly what you said. Right now, schnapps is huge. We go back every year, and each time I try to bring back schnapps from different small distilleries around southern Germany and Switzerland. We're also involved in beer—our partner Travis Kauffmann just got his brewing license, and he's going to start to brew beer that we'll be serving at our restaurants soon. Italian wine, of course, is huge for us. And in Japan we got really into saké.
Your restaurants are almost as well-known for their cocktails as they are for food. Do you have any favorite drinks from
your menus?
Castronovo: I like a lot of the classic cocktails, like the Old Fashioned. And we make a cocktail at Frankies called the Maserati. We serve it by the pitcher, and everyone who comes in asks for it—it's made with sweet vermouth, Campari (or sometimes we use Cynar), a little bit of orange and lemon juice, and some sparkling wine.
Falcinelli: And what was the cocktail you did on Jimmy Fallon? That was a great one.
Castronovo: Oh yeah, he's a fan of gin, so I made him a perfect Tuxedo.
The show Being Frank follows your food-and-drink adventures around the globe. What have been some of the highlights?
Castronovo: Peru was pretty adventurous. We started by diving for scallops in Pelican Bay, which is this beautiful sanctuary where they allow only a certain amount of diving. We took the scallops up to the boat and made a ceviche that was one of the best I've ever had. We then went up into the Andes and foraged for different sorts of quinoa, and then we went into the Amazon jungle. We ate a lot of interesting things and watched what locals ate—some things we couldn't even eat because they were just too foreign for us. There were a lot of insects—not like little, tiny ants that you can crunch and they're gone, but big, fat, juicy grubs, like the size of a marshmallow. Imagine trying to put something as big as a marshmallow in your mouth, but it's alive and squirmy.
Any favorite items you've brought home from your travels?
Falcinelli: Some seeds here and there—nothing too dangerous. And Frank always takes a cactus—he has a cactus collection from around the world.
Castonovo: I try to keep the cactus collection going, though a lot of times they don't survive in New York. And I brought back the best citrus squeezer ever, from Sicily—even some of our bartenders who collect high-quality and vintage barware are obsessed. It's from what's called the kiosko—basically a kiosk that makes these drinks from different citruses and extracts. They add fresh citrus, a little bit of extract of different sorts, and soda water. They're constantly squeezing citrus, and this tool is the best in the world.