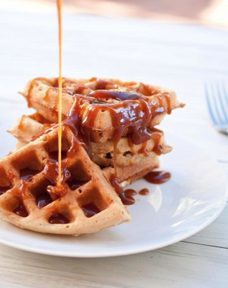 Who doesn't love beer with breakfast—especially when splashed into a waffle batter and caramel sauce?
Waffles
2 cups plus 2 Tbsp. flour
½ tsp. salt
1 tsp. baking powder
½ cup (1 stick) unsalted butter, melted
1 egg
¼ cup milk
12 oz. pilsner
In a large bowl, whisk together the flour, salt and baking powder. In another bowl, combine the butter, milk and egg, whipping until light and frothy. Make a well in the dry ingredients and add the wet mixture. Stir to combine. Add the Pilsner (there will be significant bubbling), and stir until just combined (a few lumps are fine). Bake in a waffle iron according to manufacturers instructions. Top with the Amber Ale Caramel Sauce.
Caramel Sauce
12 oz. amber ale
2 cups brown sugar, packed
¾ cup heavy cream
1 tsp. vanilla
2 Tbsp. butter
In a large saucepan, bring the beer to a boil and continue cooking until reduced to about 1 cup, about 6-10 minutes. Remove from heat, add the brown sugar and stir until dissolved. Bring mixture to a boil, and cook without stirring (swirl the pan occasionally to redistribute the caramel sauce), until the temperature reaches between 230 degrees F on a candy thermometer. Remove from heat, add remaining ingredients and stir to combine. Let cool before using. Keep refrigerated and use within 1 week.
Jacquelyn Dodd, thebeeroness.com