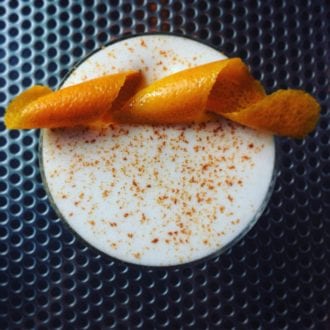 Pig & Punch was created by The Bon Vivants as a way to bring people together over great food and delicious drinks with no frills, just fun, and all for a good cause. Now in its 7th year, the series will hold events for 2016 in San Francisco, Portland, New York and Miami.
In the spirit of making drinks that are too delicious not to share, Josh Harris and Scott Baird of The Bon Vivants are contributing a series of original cocktails and twists on classics for Imbibe readers, so you can bring the Pig & Punch experience home. Rather than barrel-sized batches, these drinks are meant for a slightly smaller crowd and can be easily replicated in your home bar with just a few choice ingredients.
The first drink in the series is a twist on the Amaretto Sour featuring Luxardo Amaretto di Saschira, which lends nutty hints of vanilla without being overly sweet. "The Amaretto Sour is a thing of beauty in the right hands. It has an amazing balance of sweet and tart, and a savory almond element that makes everyone smile," says Scott Baird.
Amaretto Sour BV-Style
1½ oz. Luxardo Amaretto di Saschira
½ oz. bourbon
½ oz. fresh lime juice
¾ oz. pineapple juice
¾ oz. fresh egg white (pasteurized if you like)
2 dashes Angostura bitters
Tools: shaker, strainer, fine-mesh strainer
Glass: coupe
Garnish: cherry plus a little freshly grated cinnamon
Add all ingredients to a shaker and shake well without ice to emulsify the egg white. Add ice and shake hard until the drink is chilled. Strain through a fine-mesh strainer into a chilled coupe and garnish.
Scott Baird, The Bon Vivants, San Francisco