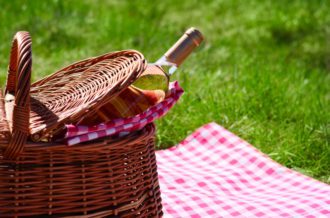 Summer means it's picnic season, and in our July/August 2013 issue, we round up a few of our favorite totes and baskets perfect for piling in the provisions and heading out for some sun. Want a peek at what an Imbiber packs inside? Here, a few of our staffers offer up their favorite picnic pairings for the summer season ahead.
Tracy Howard, Associate Editor
Though a self-professed "equal opportunity imbiber," associate editor Tracy Howard says getting a growler filled is first up when it comes to packing a picnic. "Growlers are great because it gives you a chance to taste a local, seasonal beer that may never make it into the bottle," she says. Her current favorite? Burnside Brewing's Sweet Heat made with apricots and Scotch Bonnet peppers. "It has this fiery kick at the end that preps the palate for bites of spicy salumi and pepper-marinated olives," she says. "Though you may also want to include a wedge of soft cheese like tallegio and a crusty baguette to help put out the flames!"
Katie Burnett, Marketing Director
Marketing director Katie Burnett whips up prebatched bottled cocktails at home before packing up her picnic. "Bottled Negronis go with everything!" she says, though her favorite pairing is simple: Olympic Provisions charcuterie, castelvetrano olives and a hard cheese. "We save empty bottles for the sole purpose of bottling up cocktails as soon as warm weather rolls around," she says. (Click here for our simple DIY bottled cocktail how-to.)
Molly Henty, Art Director
When the temperature pushes into the high 80s or 90s, art director Molly Henty will still have red wine on hand, "no matter how hot it gets," she says.  One of her current favorites, the wallet-friendly Bodegas Borsao Monte Oton Campo de Borja (made from 100 percent Garnacha in a tiny DO in northern Spain), is fresh and fruity thanks to its wholly stainless steel fermentation and aging. And it rarely costs more than $10.
Jen Boelts, Account Executive
"Bugey-Cerdon for sure," says Jen Boelts of her top picnic pick. "With Marcona almonds and a big bar of dark chocolate." Made from the fresh-tasting, fruit-forward Gamay grape in Eastern France (Poulsard may also enter the mix), these slightly sweet red sparklers are super versatile when it comes to picnic pairings (think everything from savory salumi to fresh fruit tarts), with an ABV that rarely stretches above 10 percent. Look for bottles by Patrick Bottex, Thierry Tissot and Renardat-Fâché.
Karen Foley, Publisher
"I'm a southerner, so I'll drink a Mint Julep any chance I get," says Imbibe publisher Karen Foley. "It might seem like a tricky picnic cocktail, but it's so easy to make—just three simple ingredients and some crushed ice. You just need to plan ahead to make sure your mint stays fresh (just put it in a Ziplock bag in a cooler) and that you have ice for crushing (just pack it in a cooler along with a canvas bag and a muddler for when you're ready to crush it). That with some fried chicken? Sign me up. I'm also really into cold-brew coffee right now, and it's especially perfect for picnics, whether you want to make your own or pack a bottled brew. I love the La Colombe cold-brew we tried in a recent tasting—that with a hunk of chocolate, and you're set."
Miranda Rake, Editorial Assistant
Gin and Tonics are a favorite summer picnic pick for editorial assistant Miranda Rake. "I like that we can each mix our drink to our own desired strength," she says, "and teetotalers can have just the tonic with a squeeze of lime." Her preferred G&T picnic pairing? "Chicken salad and cucumber sandwiches," she says.
Amy Zavatto, Contributing Editor
Contributing editor Amy Zavatto dives into some finger-licking (and Fingerlakes) goodness when she packs her picnic. We're talking, "good, cold, crispy, sneaky-spicy fried chicken,"—she soaks hers in buttermilk and cayenne for at least 24 hours—" along with a New York state Riesling like the 2012 dry styles from Anthony Road or Ravines, or even the 2012 semi-dry from Hermann Wiemer, which she says "is awesome with the salty, cayenne-kicked fried goodness of the chicken!"
Joshua M. Bernstein, Contributing Editor
"One of the things I love about living in Brooklyn is my proximity to Prospect Park," says contributing editor Joshua Bernstein, "it's where I walk the dog, ride my bike and, yes, picnic." Before hitting the park, Bernstein heads to his favorite beer store, Bierkraft, to grab a growler of something light, local and summery—"perhaps Carton Boat Beer, Barrier Gosilla or Captain Lawrence Captain's Kölsch," he says. As for sustenance, "jerk chicken from The Islands (my favorite Caribbean restaurant) can't be beat, or maybe tamales from a restaurant in Sunset Park, a neighborhood with loads of great Mexican restaurants."