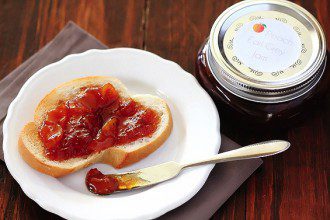 Teatime is just peachy with this fresh peach and earl grey jam recipe from food blogger Ali Ebright.
5 lbs. ripe peaches
4 cups sugar
2 Tbsp. fresh lemon juice
4 Earl Grey tea bags (or 4 tsp. loose-leaf Earl Grey tea tied in a satchel)
1 Tbsp. vanilla extract
Cut a small, shallow X in the bottom of each peach. Working in batches, blanch peaches in a large pot of boiling water until skin loosens, about 1-2 minutes. Transfer to a large bowl of ice water and let cool (if your peaches are extra soft and easy to peel, you can skip this step).
Peel, halve, and pit the peaches. Cut into ⅓ inch slices. Combine with sugar and lemon juice in a large bowl and let stand for 30 minutes.
Place a small plate in freezer. This will be used to test the consistency of the jam.
Transfer fruit mixture and 4 tea bags (or secured loose leaf tea) to a large stockpot and bring to a boil, stirring gently. Reduce heat and simmer for 30 minutes. Test for doneness by placing a small dollop of jam on the chilled plate and tip it to see if it the jam no longer runs. Repeat every 15 minutes until you have your desired thickness.
Remove tea bags and skim foam from the surface of jam. Ladle jam into 4 hot, sterilized 1-pint jars. Wipe rims, seal, and process in a boiling water bath for 10 minutes.
Ali Ebright, Gimmesomeoven.com