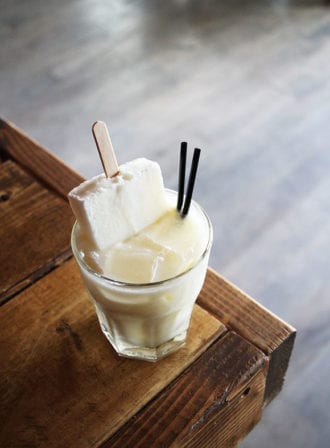 This clever take on the Painkiller is a perfect way to take the edge off any hot summer day.
2 oz. mezcal (Bottle Rocket uses Cruz de Fuego)
¾ oz. unsweetened pineapple juice
¾ oz. fresh orange juice
1½ oz. homemade coconut cream
Tools: shaker, strainer
Glass: highball
Garnish: coconut paleta (recipe below, or buy coconut pops)
Combine ingredients with ice and shake well. Strain into ice-filled glass. Garnish by placing coconut paleta in glass.
Bottle Rocket Coconut Cream: Combine 4 parts coconut cream (preferably Coco Lopez) with 1 part water and blend until combined.
Coconut Paleta: In a blender, combine 15 oz. of coconut cream (Coco Lopez), 1½ oz. of fresh lime juice and 6 oz. of water. Blend to combine. Strain the liquid into 3-oz. popsicle molds and let freeze for 4-5 hours, or until firm. Makes approximately 7 pops.
Jorge Saldarriaga and Jared Saul, Bottle Rocket, Chicago
---
Did you enjoy this recipe? Sign up for our newsletter and get our favorite drink recipes of the moment in your inbox every month.