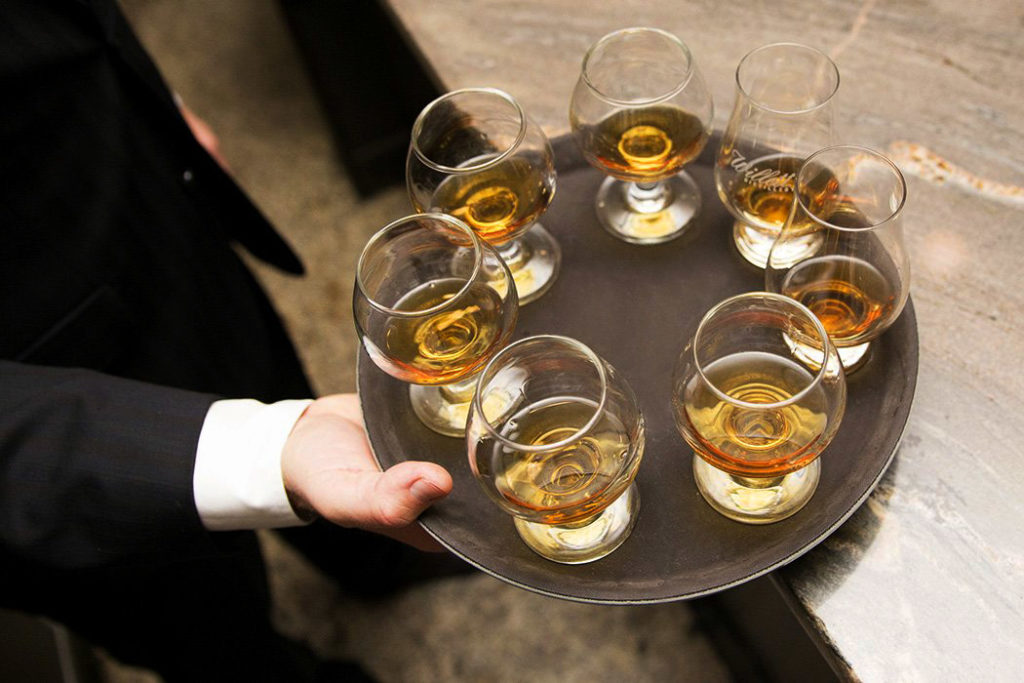 Throughout September, we've been compiling a collection of bourbon recommendations for National Bourbon Heritage Month, with picks from Larry Rice of Silver Dollar in Louisville and Liam Deegan of Barrel Proof in New Orleans. To wrap up the series, we tapped the expertise of Bill Thomas, owner, whiskey collector and mastermind behind Washington D.C.'s Jack Rose Dining Saloon, who has some suggestions for non-traditional bourbons. "Bourbon is in a place right now where demand is exceeding production, and this ever-diversifying market has spurred experimentation from all angles," Thomas says. "Everything from maturation process, charring, toasting and seasoning of barrel staves, to mashbills with non-traditional and alternative grains, barrel size and finishes—people are making some really interesting whiskeys." Read on to see which bottles he recommends exploring (in his own words).
Sonoma County Distilling Co. West Of Kentucky Bourbon
Sonoma County Distilling Co. harkens back to the past with its use of all-copper alembic pot stills for their distillation process. The West of Kentucky Bourbon is made with these direct-fire alembic pot stills, which isn't often seen in this new age of bourbon. Their commitment to this method and use of only copper stills makes a whiskey that truly draws on classic distilling techniques from the past but has a bright future in today's drinking world.
Hillrock Estate Distillery Solera Aged Bourbon
Hillrock Distillery in New York has introduced the first solera-method bourbon, which is made by drawing a portion of the cask periodically and replenishing it with new spirit. Basically you have a "living" whiskey that you draw from which is ever-evolving. It'll be interesting to try something made with the Solera method now, and then try it again in a couple years to see how the process creates consistency in the bourbon while also highlighting specific nuances.
Jim Beam Distiller's Masterpiece
Jim Beam Distillery in Kentucky is known for having the best-selling bourbon in the world, but its new release of Distiller's Masterpiece bourbon finished in sherry casks is getting the headlines. This is the third installment in the series, which was preceded by cognac and port-finished bourbons. The sherry adds additional sweetness and complexity to this classic bourbon and is worth a try. We're definitely seeing a trend of bourbons finished in unique casks, like Angel's Envy in port casks and Belle Meade Sherry finish in oloroso casks, and it doesn't seem to be slowing down.
Four Roses Cask-Strength Single Barrel OBSK
The Four Roses Distillery in Kentucky has taken bourbon geekdom to a new level. For their cask-strength single barrel series, they experiment with two different mashbills with varying corn and rye content, paired with five different yeast strains. The mashbill and yeast combinations yield 10 different expressions, all delicious in their own way, unique and worth trying. My personal favorite is the high-rye mash bill with the spicy yeast called OBSK.
Buffalo Trace Experimental Collection
Buffalo Trace in Kentucky has a whole warehouse dedicated to whiskey experimentation. They're constantly playing around with non-traditional grains, barrel char levels, extended stave aging, infusing oak chips and different entry proofs. The one I've found the most interesting is the "Made with Rice" which subs rice for the rye, adding it to the corn and malted barley. It starts off like a bourbon but has this unique rice wine finish that is reminiscent of sake. Their experimental releases hit stores several times a year so grab them when you see them.