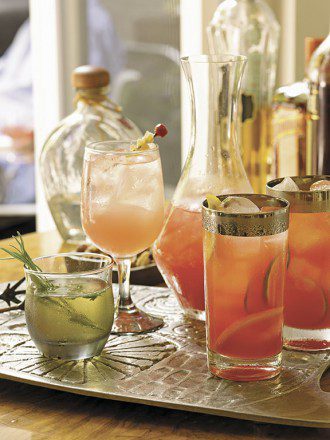 Sunday is Mother's Day (you remembered, right?), and instead of trying to squeeze in last-minute brunch reservations, why not wow her with your own homemade food and drink spread? From a New Orleans-style Bloody Mary to bourbon-spiked French toast, any combination of these cocktail, mocktail and food recipes should make mom's day.
Campari Acai Brunch Punch (pictured)
We love a good brunch punch, and this one is springy and bright with its mix of rum, Campari, and fresh herbs and juices.
Homemade Pimm's
Bottled Pimm's is a classic brunch favorite, and this recipe let's you create your very own version of the English classic.

Cochon Bloody Mary
The might be the best Bloody Mary you'll ever make. The secret lies in pork juice, olive brine and a few other surprise ingredients.
WC and Soda
Enjoy these final days of fresh kumquats with this fizzy Campari and tarragon refresher that you can easily be batche out for bigger brunch celebrations.
The Scarecrow
Is your mom more of a teetotaler? Then you're sure to score points by mixing her one of these springy mocktails.
Pilsner Waffles with Amber Ale Caramel Sauce
Moms like beer too, and this recipe for waffles infuses beer into both the batter and a rich caramel sauce for some sudsy brunch decadence.
Bourbon French Toast
Bourbon for breakfast is perfectly acceptable when it comes in fork-ready form like this recipe for buttery, boozy French toast.
Chocolate Amaretto Cupcakes
Bake mom a batch of these boozy cupcakes for a sweet treat she'll love.