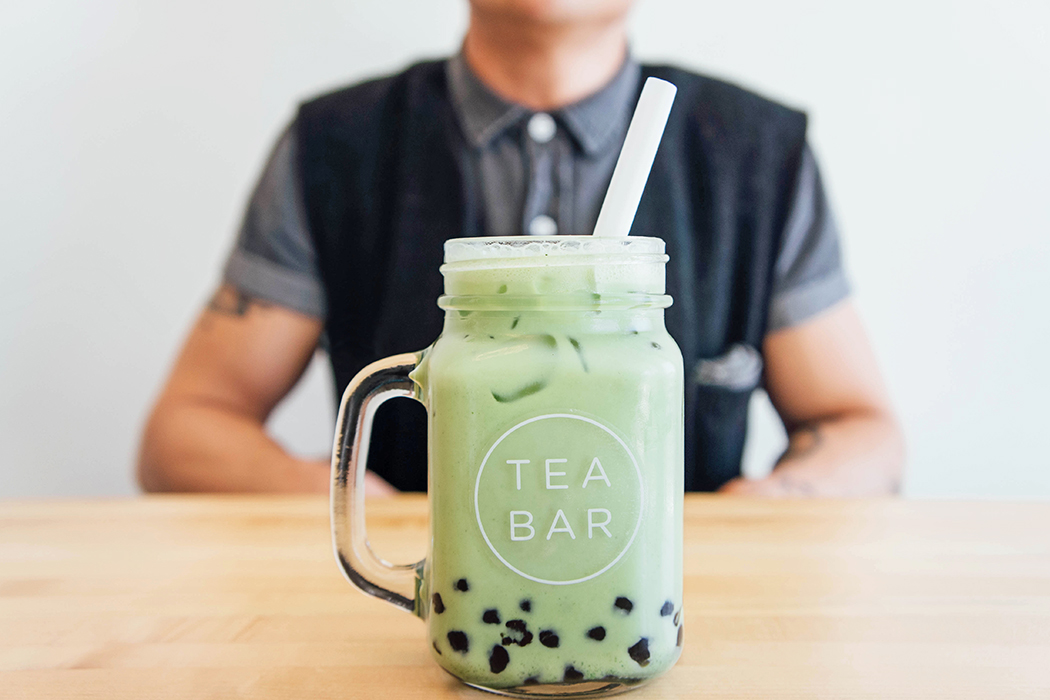 Matcha is taking the country by storm this summer, and while the traditional green tea is normally whisked into hot water and served steaming hot, a number of cafés are getting more creative by mixing up shakes, sodas and frosty dessert drinks. Here's a roundup of some of the loudest—and most inventive—disciples of the classic Japanese powder tea.
Tea Bar, Portland, Oregon
Grassy matcha from Mizuba Tea Company comes alive in the dreamy shakes served at this Portland, Oregon teahouse. Choose an extra shot of peppermint or lavender that's been brewed over the course of 24 hours at the shop for another dimension of delicate flavor. Or order a bubbly boba tea made with fresh tapioca pearls (pictured above).
Tasca Chino, New York City
Plenty of people have experimented with making matcha ice cream, but Tasca Chino ups the ante with matcha popsicles served alongside white miso-caramel ice cream, black sesame squares, chocolate rocks and chunks of coconut meringue.
The Teahouse, Santa Fe 
This cozy tea spot in New Mexico presents an array of teas from around the world, and one of the most impressive collections of hot and cold matcha drinks incorporating unusual ingredients like ginger and white chocolate. Who knew white chocolate would complement the bold taste of the rejuvinative green tea so well?
Samovar, San Francisco 
Almond milk forms the base of the frothy matcha shake at the zen-like café Samovar in San Francisco, lending a slightly nutty, slightly sweet personality to the delicious beverage.
Chicago Distilling Company, Chicago 
One of several distilleries in the Chicago area with an in-house bar, Chicago Distilling makes several cocktails with matcha, like the Matcha Cooler, which uses powder from Rare Tea Cellar infused into simple syrup. Ceres Vodka, fresh cucumber juice, lime juice and mint complete the refreshing tipple.
Chalait, New York City 
Armed with their own line of tea from Uji, Japan, Chalait offers a versatile menu of drinks including hot matcha lattes, Americanos and cortados and cold iced teas. We're especially enamored by the rotating seasonal fizz, which features iced matcha and seasonal fruit cordial. The classic Chalait Arnold Palmer has a shot of matcha iced tea with lemon syrup, topped with sparkling water, and right now they're offering one with muddled cucumber, mint, simple syrup and soda. 
Miro Tea, Seattle
Sparkling water and bright lemon adds a fresh bite to Miro's matcha soda, which they make completely in-house. If you'd rather eat your tea, they also offer a chicken wrap roasted with matcha and yogurt, which lends a cooling, earthy flavor to the dish.
Gracias Madre, Los Angeles 
Beverage Director Jason Eisner works matcha into a boozy cocktail called the Matcha Do About Nothing, featuring tequila blanco, Art of Tea matcha, coconut milk, toasted sesame-infused agave, tapioca pearls cured in edamame syrup, lime bitters, and cherry blossom.
Jimmy Patio, Chicago
Another impressive boozy matcha cocktail hails from The James Hotel in Chicago. Presented as a playful riff on the classic Piña Colada, matcha and white rum duke it out with a house-made pineapple and coconut cream mix to form a creamy dessert-like blend worthy of patio sipping all summer long.
Matcha Bar, New York City 
Dedicated to the mission of "uplifting and motivating our community with the power of matcha," this Brooklyn spot serves its own brand of the powdered tea sourced from an independent farm in Japan. The menu features classic cafe drinks like matcha lattes, iced matchas, matchaiattos, matcha chai lattes, and they also do seasonal fresh pressed juice-infused matchas served over ice with flavors like iced watermelon, fiji apple ginger and acai. Can't make it all the way to the Big Apple for a visit? Check out their starter kits, which you can buy online.