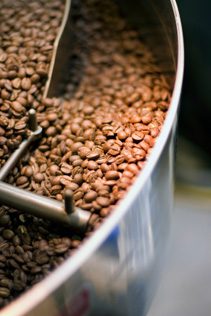 Microroasters across the U.S. are not subscribing to a bigger is better mantra. These artisans roast 100,000 pounds of coffee or less a year, often traveling the world to source beans themselves and obsessing over the quality of every batch of coffee. For them, roasting is an ever-evolving craft that demands constant dedication and practice, and quality always trumps quantity. Here are seven more microroasters proving that sometimes, big things come in small batches.
Anodyne Coffee Roasters Milwaukee, Wisconsin
In the artsy Bay View neighborhood a few blocks from Lake Michigan, Anodyne has been roasting coffee in small batches for the past decade. Head roaster Steve Kessler joined the team two years ago and since has taken production to nearly 98,000 pounds of coffee a year, all roasted in Anodyne's trusty 12-kilo San Franciscan roaster. Most of their offerings are directly sourced from farmers throughout Africa and the Americas, and are available in local markets and natural food grocers as well as neighborhood restaurants and cafés.

Brown Coffee Company San Antonio, Texas
If there were such a thing as a micro-microroaster, Aaron Blanco would be it. In 2005 he founded Brown Coffee Company in his parents' garage, and although he's expanded to a San Antonio storefront, he's still Brown's sole employee. Roasting about 20,000 pounds of beans annually on a custom-built roaster, his rotating coffee roster includes Cup of Excellence winners and heirloom beans, most of which are sold from his website and at accounts across the country, like the recently opened RBC NYC in Manhattan.
Cellar Door Coffee Portland, Oregon
With a Dietrich IR-12 roaster in the cellar of a rented Victorian house and a cozy café on the ground floor, coffee roasting is part of day-to-day household operations for Jeremy Adams and Andrea Pastor, owners of Cellar Door Coffee. Roasting organic, single-origin beans for both in-house French presses and espresso drinks, their roaster is powered solely through renewable resources and all of their to-go cups are fully compostable.
Flying Goat Coffee Healdsburg, California
When Phil Anacker left his teaching job in Berkeley to pursue a coffee hobby in Napa, he had hopes of bringing a farm-focused roasting model to the coffee-drinking public. Fifteen years later, he and business partner Maura Harrington have fulfilled that dream with three Flying Goat locations scattered across Sonoma County. Anacker offers small microlots from origins around the globe that he personally visits each year. Combining an annual production of 100,000 pounds of coffee with a strong focus on consumer education, the three Flying Goat cafés each offer a daily selection of single-origin coffees French pressed in house, or packaged up to go.
Lone Pine Coffee Roasters Bend, Oregon
Self-professed nano-roasters Anna and Scott Witham opened their roastery and café in downtown Bend, Oregon, last March after years of experimenting with popcorn poppers and a mini half-pound roaster. Roasting mostly East African beans on their Dietrich IR-12, the couple is working toward producing about 10,000 pounds of coffee a year, most of which can be found online and in their 900-square-foot storefront.
Yo el Rey Roasting Calistoga, California
It took 15 jobs in five years, but after answering a want ad at a roasting company in 2004, J. Kirk Feirereisen finally found his calling. In 2008 he branched out on his own, opening Yo el Rey in sleepy Calistoga. Roasting only fair-trade and certified-organic beans on a Dietrich IR-12 roaster in his 500-square-foot storefront and café, Feirereisen has found a following—his coffees have been picked up by local markets and restaurants, he's hired several employees and his Yirgacheffe snagged a 92-point score from coffeereview.com.