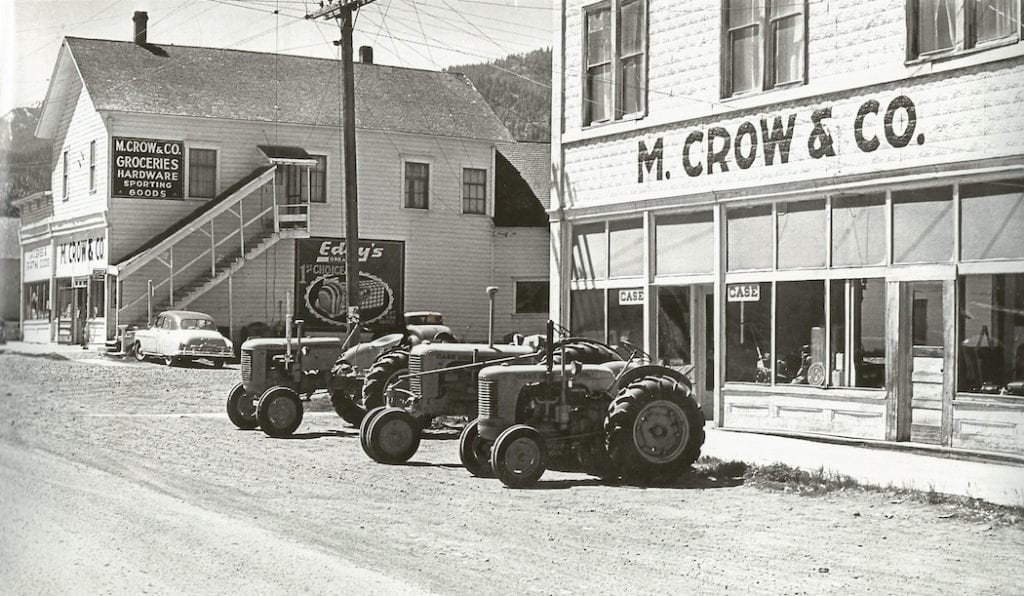 Artist, furniture designer and general jack-of-all-trades Tyler Hays has made a name for himself as the ultimate DIYer. "I may be terrible at a lot of stuff, but when it comes to making things, I'm a little bit of a wizard," he says. It's a skill that has served him well. His international company, BDDW, sells high-end (and highly prized) furniture, and he's dabbled in the creation of just about anything that can be made from two hands. But his next project isn't what might expect. Hays is venturing into the world of brewing.
Resurrecting History
Nestled at the base of the Wallowa Mountains in rural northeastern Oregon, Lostine has a population of about 200 people. So when the local general store, M. Crow and Co., was slated to close after more than a century, Hays bought it. He grew up just down the road in Joseph, Oregon, so he maintains a strong affinity for the area and its maker mindset. "We couldn't afford anything," he says of his childhood. "If you wanted a bicycle, you found a frame at the dump and put it together. We just made everything."
Hays left the area as a teenager, but he carried that resourcefulness with him. With a workshop based in Philadelphia, his company employs about a hundred people, and he has showrooms in Manhattan, Milan and, now, an outpost in Lostine. "It was tragic to see this 100-plus-year-old store closing when I bought it," says Hays. "It's the only convenience store in the area if you need a book of matches or half-and-half or a six pack; it's the only place within a 20-minute drive for most people. It's kind of the heart of the community."
Across the country, Hays opened a second M. Crow location in New York's SoHo neighborhood to showcase his handmade goods like bandsaw-blade steak knives and ceramic jars. But the original store functions much as it always has over the past century, selling fresh eggs, dry goods and workwear. And if you need a beer at the end of the day, they can pour you one from their microbrewery out back. "My good friend Jane who runs the M. Crow store in Lostine, her husband and I had brewed beer together off and on, so he's brewing the beer there now," says Hays. "We call it the world's smallest licensed brewery. We literally make like one keg a month." Soon, that will change.
Beer as Art, and Commerce
As a hands-on process, brewing has long interested Hays. "I've always brewed, even since I was a kid," he says. "I would ferment grains in jars and open it up and smell it. I'm just fanatical about the process."
For Hays, making beer in Lostine has become a two-pronged project with both economic and artistic intent. On the experimental side, he's growing, harvesting and malting the barley locally, making ceramic bottles to hold the beer (from clay dug down the road), and powering the brewhouse with waste heat from the kiln. "It's a bit like a Dr. Seuss contraption," says Hays. "We're malting our own barley on site, using wild-fermented yeast and making our own beer bottles—ideally with zero electricity and only wood-fired heat. So it's more of an art project than a beer project."
But since taking ownership of the M. Crow store, Hays has held a stake in the economic viability of the region, and here again, beer enters the picture. With acreage already allotted and barely in the ground, Hays and company are just waiting for warmer weather to break ground on a commercial brewery, while keeping the focus local. "One of the coolest parts is the Klages barley; it was the premier malting barley in the 1960s and '70s," says Hays. "A guy I grew up with, Alan Klages—his family were pioneers who homesteaded in the valley, and his grandpa invented the Klages barley. So we're making the beer from this barley, and we're growing the barley on the Klages land."
Although a timeline is still up in the air until they can break ground, Hays says he wants the brewery to serve as an example for using a region's resources within the area itself to create jobs and continued economic development. He plans to have a tasting room but not a pub, as the focus will be mostly on bottling and distributing nationally. "Let's use this as an example to help other communities," he says. "If you're going to make beer, let's make it as responsibly as we can."