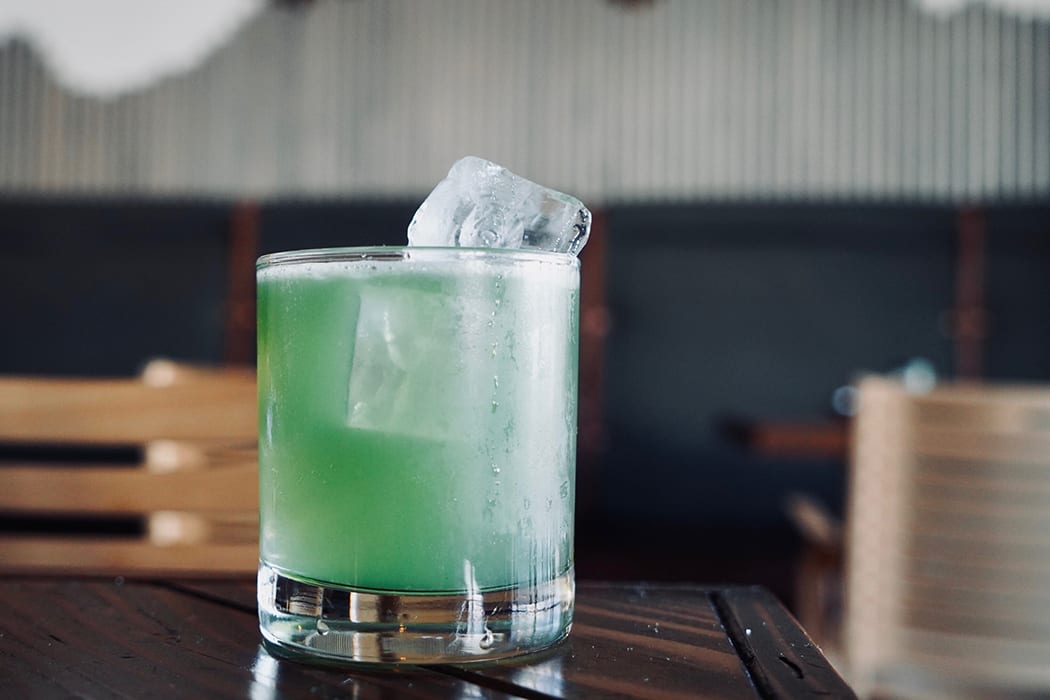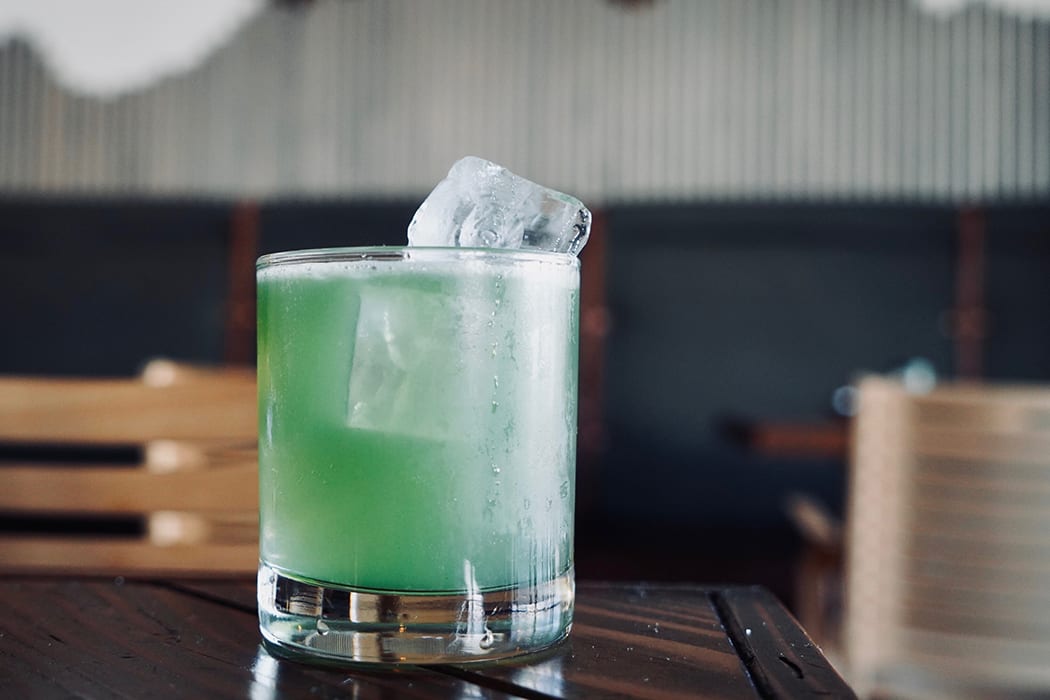 When Campfire bartender Leigh Lacap realized the restaurant was throwing away roughly half of the mint they purchased every day, he created this riff on the Eastside cocktail to put those scraps to use, along with pulp from cucumbers that would otherwise go to waste.
2 oz. dry gin
1 oz. mint and cucumber pulp syrup
¾ oz. fresh lime juice
Dash of spirulina or wheatgrass (optional)
Sea salt
Tools: shaker, strainer
Glass: rocks
Shake all the ingredients with ice in a shaker. Strain into an ice-filled glass. Finish with a pinch of sea salt.
Salvaged Mint and Cucumber Pulp Syrup
3 oz. mint (by weight)
32 oz. simple syrup (1:1)
8 oz. cucumber pulp (by weight)
Tie the mint up in cheesecloth like a tea bag.* Prepare an ice bath in a large bowl and set aside. In a pot, bring simple syrup to a boil. Add the mint, making sure to submerge everything for a good 15 seconds. Remove the syrup from the heat and use tongs or a slotted spoon to remove the mint. Submerge the mint in the ice bath for a few seconds, then remove it from the ice. Cut the mint loose from the cheesecloth and place it on a tea towel, folding the towel over to remove excess moisture. Allow the simple syrup to cool completely in the refrigerator, then reintroduce the mint and add the cucumber pulp. Using a blender, blend the mixture on high speed until emulsified, then strain the mixture through a fine strainer into a jar. For every quart of syrup, add 4 grams of Spirulina or wheatgrass powder, and whisk to combine. Keep refrigerated.
*If you don't have cheesecloth you can do this with loose mint, just remove the ice from the ice bath before adding the mint.
Leigh Lacap, Campfire, San Diego
---
Did you enjoy this recipe? Sign up for our newsletter and get our favorite drink recipes of the moment in your inbox every month.