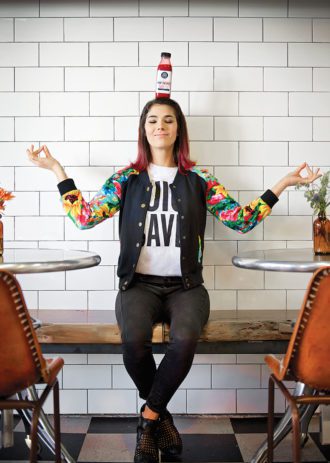 Named to our 2015 Imbibe 75 list of People to Watch, bartender-turned-juicer Lindsay Nader applies her former trade to the juice industry, bottling up creative flavor combos as the co-owner of San Diego's Juice Saves. Here, she offers up her top tips for mastering your own juice.
Get Your Greens
"Getting your greens in is essential, but not always delicious. To sweeten up a green drink, try adding apple or pineapple juice. Granny Smith apple and celery have a wonderful affinity for dark leafy greens like spinach and kale.
Try it: 2 parts granny smith + 2 parts celery + 2 parts leafy greens. "Add some extra flavor by adding a handful of herbs like cilantro or parsley—both of these herbs have significant benefits like nervous and immune system strength and we rarely get either of them in our daily diet."
Add Some Heat
"Spice things up with a pinch of cayenne, a powerful spice that increases circulation and is used to treat aches, pains and inflammation."
Try it: 2 parts pineapple juice + 2 parts pear juice + 1 part orange juice + a splash of lemon juice and a pinch of cayenne—a little goes a long way!
Dress it Up
"Unfiltered apple cider vinegar is very low in calories (about 3 calories per tablespoon), and contains enzymes and friendly bacteria that are great for tummy troubles and promoting healthy gut flora. It also acts as a powerful antibacterial and metabolism booster due to its acetic acid."
Try it: 1 part berry juice like strawberry or blueberry + 5 parts filtered water + a splash of ginger and apple cider vinegar. "To sweeten it up a bit you can add raw honey or coconut palm sugar, which is a minimally processed sugar that is nutrient dense and low on the glycemic index."