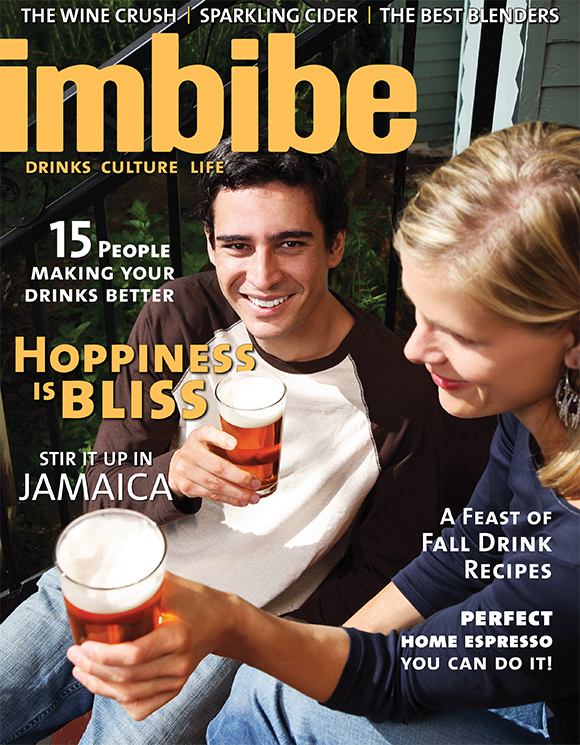 Recipes

Cocktails

Marmalade Sour, Black Dahlia Martini, St. Croix Rum Fix, Carribbean Coffee, Brandy Fix, Toasted Almond Martini, Avocado Daiquiri, Dry Martini (1930s Style), Negroni, Vermouth Cassis

Mocktails

Rum Punch, Pineapple-Ginger Drink

Mixers

Simple Syrup, Pineapple Syrup

Food

Pairing Beer & Cheese

How-to

Mulled Wine
Features

Stir It Up: Jamaica

Rum love, Blue Mountain coffee and island-inspired drink recipes. Plus, rum tasting notes from tiki man Jeff Berry. Read More »

The Imbibe 15

From changing the face of Rwandan coffee to pairing soda with serious cuisine, these innovators are making their mark on the drinks world.

Hoppiness Is Bliss

Delicate, cone-shaped hop flowers have big bitter flavor that craft brewers are cherishing more than ever. Plus, a guide to the best hoppy beers.

Crush Time

Winemakers aren't stomping grapes with their feet these days, but crush is still as magical—and important—as ever. Read More »

Home Espresso 101

With practice and enthusiasm, any espresso lover can become a skilled home barista
Departments

Uncorked

Drink news you can use.

Dr. Cocktail

Rediscovering vintage drinks with Ted Haigh.

Distilled

Your questions, expert answers.

Taste-Test

Sparkling apple ciders, just in time for autumn.

Gear

Six blenders put to the test.

Elements

A staple of vintage cocktails, vermouth is in the spotlight. Read More »

Characters

Tom Owen and his home-roast revolution.

Real Deal

Silly labels, serious wines.

Style

Muddler madness.

Mix It Up

Mulled wine in five easy steps.

Scene Scout

Where to go now, from Samovar Tea Lounge in San Francisco to Dino in D.C.

Cravings

Beer and cheese: the other perfect pairing.

Quench

Rock-paper-scissors in wine land.