No. 40: November/December 2012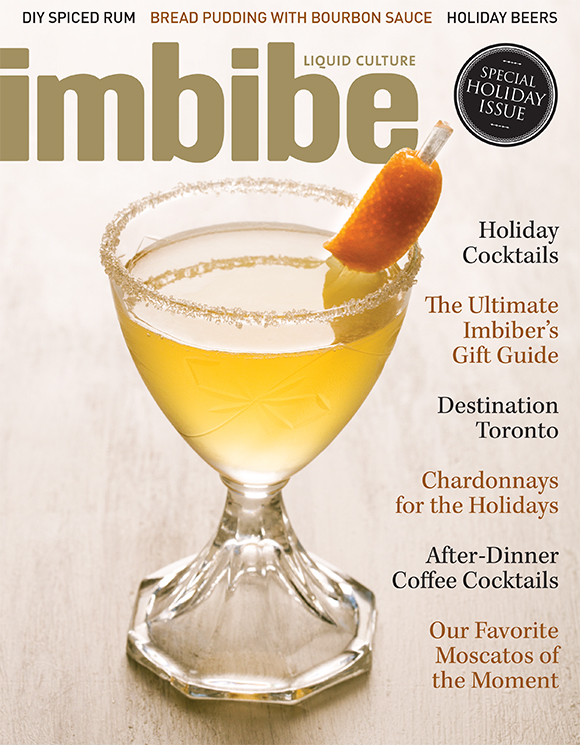 FEATURES

Season's Bounty

Celebrate the fruits of winter in your holiday cocktails.

2012 Holiday Gift Guide

50 great ideas to fit every imbiber's budget.

A New Day for Chardonnay

American winemakers are letting the classic grape speak for itself.

Wheat of the Moment

Warming wheat wine ales make an ideal cold-weather companion. Read More »

Coffee After Dark

Six classic after-dinner coffee drinks revisited.

Up and Away

Whatever you do, don't call Toronto's growing cocktail and beer scenes provincial. Read More »
DEPARTMENTS

Uncorked

A winter-ready Montana chai, where to go for the ultimate Tom & Jerrys, and Ree Drummond on her favorite coffee-fueled winter indulgence.

Old Fashioned

David Wondrich brings an old-school bartender out of the shadows.

Taste-Test

Moscato is Northern Italy's brunch bubbly at its best.

Gear

Hot chocolate pots mix up a favorite wintertime treat.

Elements

Give your cocktails and punches an exotic twist with Batavia Arrack. Read More »

Characters

In Texas' High Plains, Cliff Bingham has made viticulture a family affair.

Mix It Up

DIY spiced rum adds a kick to your holiday gift-giving.

Scene Scout

The SoCal bean scene gets geeky with a six-seat experimental coffee bar.

Cravings

A bourbon-rich bread pudding hits a sweet note.

Quench

Coming home to a father's Brandy Alexanders.
RECIPES

Cocktails

Dick Francis' Special, The Spotted Pig's Mulled Wine, Western Passage, Bushwacked, Javanese Yule, The Softer Side, Nutty Squirrel, The Spiced Apple, Winter Pisco Punch, Solstice Sunset, Kumquat-Cardamom Sidecar, The Brown Turkey, Cranberry Smash, Keoke Coffee, Don the Beachcomber's Coffee Grog, Café Brulot, Spanish Coffee, Irish Coffee, Café Pucci, Athol Brose, Wasabi Caesar, Rumhattan, Dad's Brandy Alexander

Cravings

Bread Pudding With Dried Sour Cherries in Vanilla Bourbon Sauce

How-to

Homemade Spiced Rum
Buy now!

Click here to buy this issue.