No. 22: November/December 2009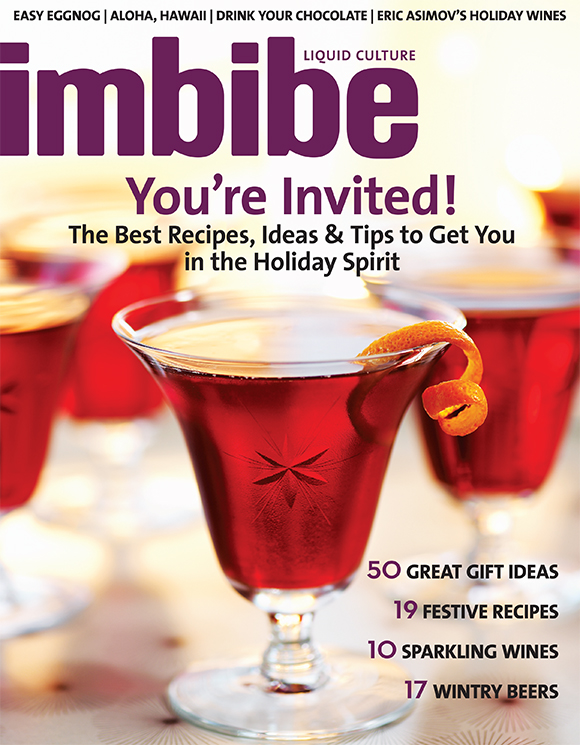 Recipes

Cocktails

The H.I.S. (Hungary, Italy, Spain), The Deshler, When Figs Fly, Gene Krupa, Fig Old Fashioned, Carousel Punch, The Smoking Gun, Spiced Pear Daiquiri, Northern Star, Death and Company, East India Flip, The Christmas Punk, Mexican Mocha, Ginger-Lychee Caipirissima, Murasaki Geisha Alcohol-Free New England Buck, Masala-Spiced Dark Milk Drinking Chocolate

Cravings

ATF Gingerbread

How-to

Eggnog
Features

Holiday Gift Guide

50 gift ideas that will get you through the holiday season (without breaking the bank).

You're Invited!

Join the party with our festive drink recipes.

A Winter's Ale

The bold flavors of barleywine take center stage during the holidays. Read More »

Bubbling Up

What to sip when you have Champagne tastes and a real-world budget.

Haute Chocolate

This winter, warm yourself with new versions of a holiday classic.

Eternal Summer

Escape the cold weather and head to Hawaii, where the drinking is easy—if you know where to look.
Departments

Uncorked

Drink news you can use.

Dr. Cocktail

The Deschler Case.

Distilled

Your questions, expert answers. Ask your own question by clicking here.

Taste-Test

Wise up to witbiers.

Gear

Stovetop coffee makers put to the test.

Elements

Figs Bartenders are mixing up fresh cocktails with a classic holiday ingredient

Characters

Greg Boehm presides over an astonishing collection of cocktail treasures.

Mix It Up

How to make your own eggnog using an out-of-this-world recipe from Elizabeth on 37th.

Scene Scout

Where to go now, from Tavern Law in Seattle to Spro Coffee in Baltimore, Maryland.

Cravings

Gingerbread cake that packs a punch.

Quench

Warm up your holidays with Scandinavian Glögg.
Buy this issue!

Click here to buy this issue.