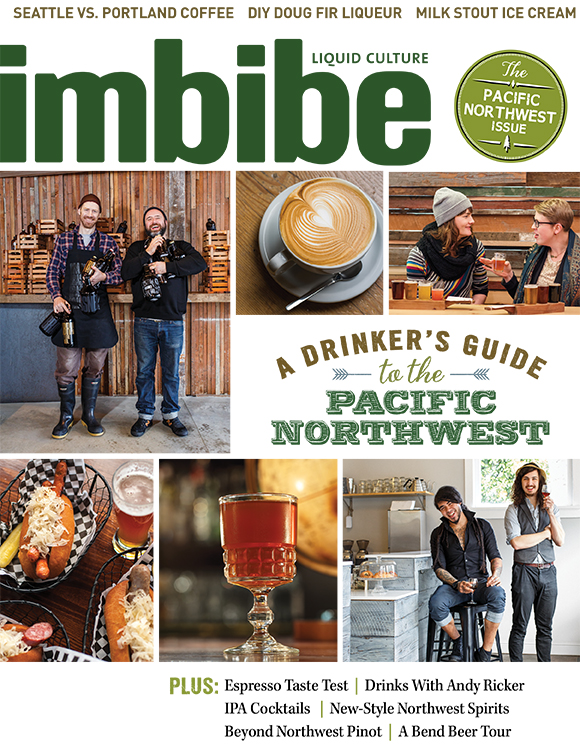 Recipes

Cocktails

Rhubarb Ración, 46, Café Nico, Ode to Terry, Roll Pin Shandy, End of Days, Roadler Punch, Meiji Mule, White Elephant, Party Cat, Ace of Clubs, Evergreen, New Toronto.

Cravings

Chocolate Milk Stout Ice Cream

DIY

Homemade Douglas Fir Liqueur
Features

Follow the 5

An imbiber's ultimate road trip up Interstate 5.

Around the Bend

Once fueled by timber, the outdoorsy Oregon town is now powered by craft beer. Read More »

Roads Less Traveled

Northwest distillers explore new paths in pursuit of a taste of place.

In Plain Sight

Uncovering uncommon varietals in the vineyards of Washington and Oregon. Read More »

Long Shot

When it comes to coffee, Seattle and Portland are the cities that could.
Departments

Uncorked

A small-batch tonic from Seattle makes waves among Northwest bartenders, rhubarb cocktails usher in spring to the Northwest, and Portland chef Andy Ricker chats about drinking vinegars, chicken wings and drinking in the Pacific Northwest.

Behind the Bar

Wayne Curtis uncovers the storied history of one of Portland's most colorful saloons. Read More »

Taste-Test

Northwest espresso blends that venture off the beaten path.

Gear

Northwest espresso blends that venture off the beaten path.

Elements

Northwest bartenders use IPAs to pack a punch in their cocktails. Read More »

Characters

Steven Smith circles the globe in a single cup of tea.

Mix It Up

DIY Douglas fir liqueur adds a little greenery to your glass.

Cravings

Beer-soaked ice cream from a favorite Seattle scoop shop.

Quench

The Northwest's seasonal gloom is no match for hot chocolate.
Bonus Articles

The perfect Capitol Hill bar crawl. Read More »

An imbiber's guide to Portland's Central Eastside bar scene. Read More »

Bar historian Doug Kenck-Crispin shares a list of his favorite classic Portland bars. Read More »

Bartender Michael Shea's perfect day in Portland. Read More »

Cocktail/coffee geek Alex Negranza takes us on a tour of his favorite Seattle spots. Read More »

Shaun Layton uncovers his favorite eating and drinking spots in Vancouver, BC. Read More »

A guide to Portland breweries. Read More »

Where to eat, drink and sleep in Willamette Valley Wine Country. Read More »

Northwest distillers explore new paths in pursuit of a taste of place. Read More »

Where to score a perfect cup in Seattle. Read More »