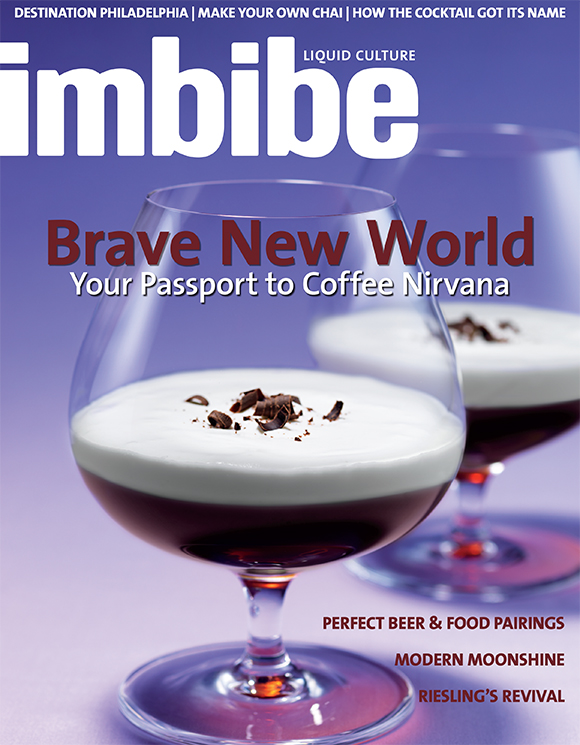 Recipes

Cocktails

Modern #2, Trinidad Sand, Theobrama, (Ye Olde) Croswell Cocktail, Quiet Forge, Smoke Riviera, The Beccaccino, The 6th Borough, Cordova Cocktail Alcohol-Free Smoked Ginger Ale, Café de Olla

Cravings

Honey-Espresso Glazed Scallops, Orange-Steamed Mussels with Tomatoes and Breadcrumbs

How-to

Turkish Coffee, Masala Chai
Around the World in 20 Cups

The best, brightest and flat-out most interesting coffee happenings across the globe.

New Moon Rising

A new breed of moonshiners is making illicit spirits respectable. Read More »

Look Who's Coming To Dinner

There's room at the table for beer, too. Read More »

Philly, No Cheese

One of America's oldest cities is donning a new sophistication.

The Return of the King

After decades spent in Chardonnay's shadow, Riesling is staging its comeback.
Departments

Uncorked

Drink news you can use.

Dr. Cocktail

Rediscovering vintage drinks with Ted Haigh.

Distilled

Your questions, expert answers.

Taste-Test

Doppelbocks Double your fun with these seven brews.

Gear

Poring over water-filtration pitchers.

Elements

Smoke Smoke is firing the imaginations of creative bartenders.

Characters

How one family created their own crop-to-cup business model to save their family plantation. Read More »

Style

Ready-to-wear vintage liquor labels from Dust Design Co.

Mix It Up

Wake up your tastebuds with homemade masala chai.

Scene Scout

Where to go now, from Taverna Aventine in San Francisco to Mercury Coffee Bar in Detroit.

Cravings

Blood oranges and white wine give steamed mussels some extra punch.

Quench

The Badger State's inexplicable love affair with brandy.