No. 23: January/February 2010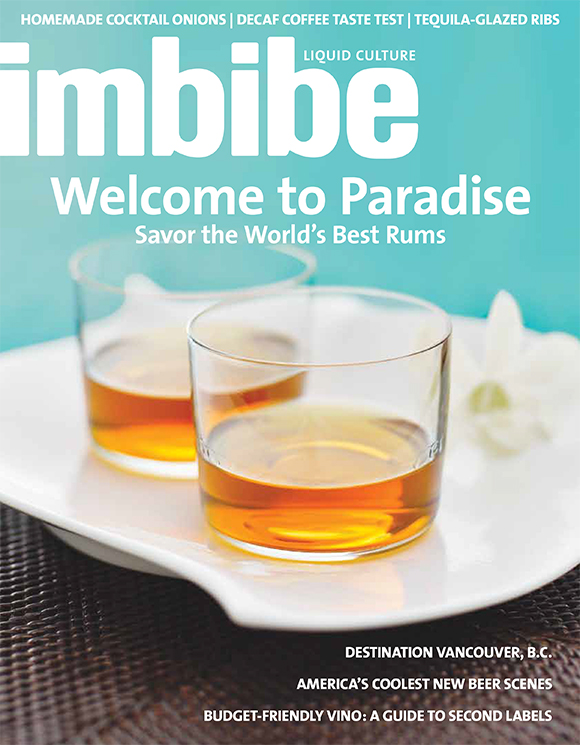 Recipes

Cocktails

Pok Pok Gin & Tonic, Une Idée, Mekhong Mule, Bangkok Buck, Mekhong Southern Thai Swizzle, Floridita, Center of the Galaxy, The Clermeil, Tequila Martinez, Pear-agon, Prospector

Cravings

Tequila- and Orange-Scented Pork Ribs with Agave Glaze

How-to

Cocktail Onions
Features

Liquid Gold

Serious rums are made to be savored.

Double Take

Can't afford the greatest of the great wines? Consider their stunning second-label siblings.

Team Canada

Vancouver's innovative bars are vying for a place on the world cocktail podium. Read More »

Meet the Heirlooms

Five heritage coffees you should get to know.

The Fab 5

From Reno to Portland (no, not that one), meet five of America's emerging beer meccas.
Departments

Uncorked

Drink news you can use.

Dr. Cocktail

Message in a mixing glass: The Professional Bartender Cocktail Championship of 1929.

Distilled

Your questions, expert answers.

Taste-Test

Decaf coffee sheds its outdated image.

Gear

Cocktail muddlers put to the test.

Elements

Mekhong Thai one on with Mekhong.

Characters

Hurry! Hurry! Step Right Up! Taylor Peck has an elixir to sell you—and it's delicious! Read More »

Mix It Up

How to make your own cocktail onions.

Scene Scout

Where to go now, from Churchkey in Washington, D.C. to The Living Room in Seattle.

Cravings

Aged tequila lends a smoky edge to meaty pork ribs.

Quench

A Spanish vintner turns aged sherry into an art form.