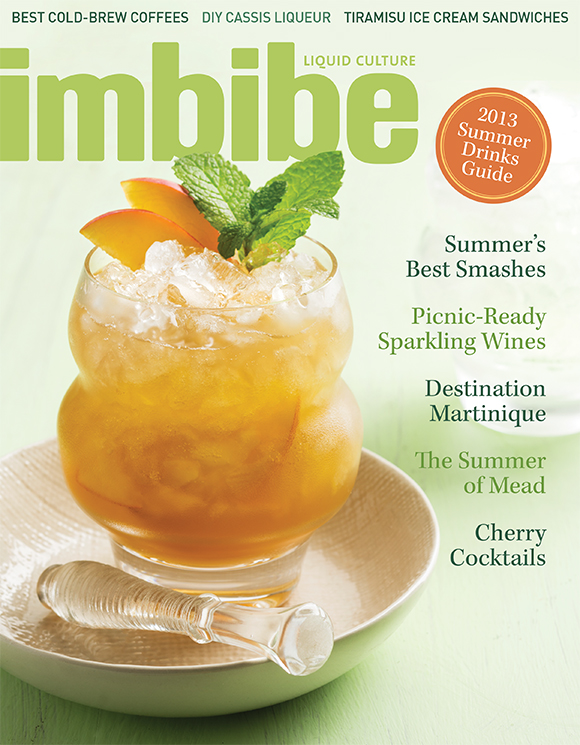 RECIPES

Drinks

Mexicali Mule, Classic Lemonade Shandy, Gin-Cassis Shandy, Belgium Sucker Punch Shandy, Dueling Banjos, Sirocco Mixture, Preservation Punch, Top 10, Oaxaca Springtime, I'm a Peach, Honeydew Crush, Eastern Smash, One Day in Rio, Southern Hemisphere Smash, Chile-Nectarine Smash, Summers' Vitae, Melo-Mint Smash, Ti' Punch, Homemade Creme de Cassis, Blue Vein, Dial "D" for Derby.

Food

Tiramisu Ice Cream Sandwiches
FEATURES

Simply Smashing

Brighten up your summer with fresh and fruity smashes.

Easy, Breezy Bubbly

Forget the black tie—summer is prime time for flip-flops, bbq and sparkling wine.

Hey, Honey

Thanks to a swarm of innovators, there's a new buzz surrounding mead. Read More »

The Milky Way

How family-run dairies are making a comeback.

Treasure Island

In Martinique, fresh sugarcane is the stuff rum dreams are made of. Read More »
DEPARTMENTS

Uncorked

A fresh look at cocktail bitters, summery shandy recipes, and Cooking Channel cocktail darlings Alie Ward and Georgia Hardstark on their favorite hangouts, guilty pleasures and drinks.

Old Fashioned

David Wondrich navigates the spirits-soaked history of sailor drinks. Read More »

Taste Test

cold-brew coffees inspire a summer on ice.

Gear

Our favorite picnic totes and baskets.

Elements

Bright and luscious, tart and sweet, cherries bejewel summer cocktails.

Characters

At the table and in the studio, sommelier turned podcaster Levi Dalton keeps the wine conversation going.

Mix It Up

Add a fruity splash to cocktails with homemade creme de cassis. Read More »

Scene Scout

Where to drink in Uptown Oakland, the heart of NorCal's East Bay.

Cravings

Chocolate, rum and espresso unite in a tiramisu ice cream sandwich.

Quench

A journey from urban home brewer to rural hop whisperer.