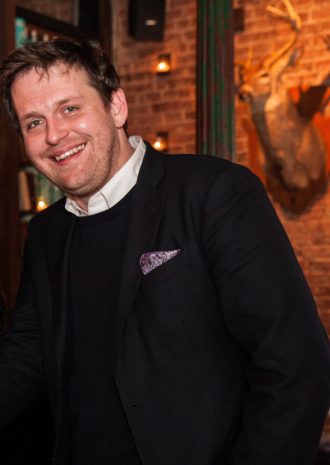 Without initially realizing it, Josh Pearson discovered that his family has been in the liquor and hospitality industry for several generations. Pearson began his own bartending career in Australia in 2001, first in a small pub and then a nightclub known for its cocktails. After a few years behind the bar at different spots in Australia and Canada, he moved to Chicago to help run Sepia while doing some consulting and brand work. Then, in 2010 he started working part time with Absolut before becoming a full-time brand ambassador. Last year, Pearson relocated to New York and now works as an Absolut ambassador in Chicago and New York. He recently sat down with Joshua Harris of The Bon Vivants (and Pig & Punch) to talk about his new position and what he does when he's not on the clock.
JH: What do you enjoy most about your new job?
JP: The creative aspect. My job kind of pools together all of the things I enjoy—I still get to partake in the fun of bartending and being in the bartending industry, but I also get to help develop training tools for bartenders. Getting to be part of the community in two cities is pretty awesome too.
JH: Absolut has been a Pig & Punch partner for several years running. What is it about Pig & Punch that you believe has synergy with Absolut?
JP: When Pig & Punch started, it was right at the peak of the when we were realizing that we were a national community. For the first time, we realized we weren't just these little islands of cities, we were part of a larger community, and as a community we should be giving back. Absolut has a history of being heavily involved in the bartending community, and Pig & Punch really tied that and philanthropy together.
JH: What do you think makes Absolut special?
JP: We make a great product and it's something that a lot of people are very proud of, but what makes Absolut special is so much more than what's in the bottle. Absolut is involved in the arts, the bartending community and the LGBT community—there are so many touchstones. One of my favorite parts about the brand is that everybody has a connection to Absolut, whether it be the liquid or the art or the advertising.
JH: When you walk into your local bar or when you're at home, how do you enjoy drinking your brand?
JP: It was kind of the first drink I ever fell in love with as a much younger bartender, but the Vodka Martini is still my go-to. It's so simple yet so precise. It's like that analogy of a chef—if a chef can make scrambled eggs, they can cook; if a bartender can make a Martini, they can bartend.
JH: For the outsider looking in, the line between work and play gets a little blurry. When you're truly detached from your work, what do you do in your downtime?
JP: When you're on the road as much as I am with work, I think eating something you've made yourself is very important. So when I'm at home, I really enjoy cooking and baking. If I have the entire day, I will cook for the entire day. My father is a baker and a pastry chef, so I find baking very zen because it's such a methodical process and you can't really play around with it.
JH: What are some of your favorite restaurants?
JP: I would have to say Acadia in Chicago—I probably had the best meal of my life there. I went there for my birthday last year and it was just incredible. I think the chef there, Ryan McCaskey, is doing incredible things. And in New York, Saxon + Parole kind of hits everything for me—amazing service, amazing food, incredible cocktails and a great location. I don't think you could ask for anything more in a restaurant. For street food, I'd have to go with the halal carts. I really enjoy them living in New York. I get the roast lamb with extra white sauce and extra red sauce.
JH: What's your one not-to-be-missed travel destination?JP: I would have to say Bangkok. It's the most amazing city in the world. It is a crazy contrast of a new, modern Asian city, but you can walk down the street and see a 14th-century temple. It's incredibly hospitable there and so central to pretty beaches. It's one of my favorite places in the world.
JH: And finally, some rapid fire questions…
JH: Coffee or tea?
JP: Coffee.
JH: Beach or mountains?
JP: Mountains.
JH: Shorts or pants?
JP: Pants.
JH: Forks, chopsticks or fingers?
JP: Fingers.
JH: Books, TV or movies?
JP: Books.
JH: Still or sparkling?
JP: Sparkling.
JH: Cats or dogs?
JP: Cats—there's one at my foot right now.