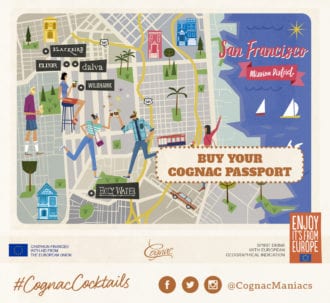 With the publication of legendary bartender Jerry Thomas's guide How to Mix Drinks or The Bon Vivant's Companion over 150 years ago, the cocktail as we celebrate it today was born. Cognac took center stage in many of Thomas's recipes, and cocktails like the Brandy Crusta and Mint Julep were the foundation of pre-Prohibition classics and are still celebrated and riffed on by bartenders around the world. Why the focus on Cognac?
Situated on the Atlantic coast of France, Cognac—a European Geographical Indication, which guarantees origin and quality—has a long heritage as both a land of vineyards and a port city. Accessibility to the ocean led to prosperous international trading and allowed the spirit to arrive in glasses and cocktails around the world, and Cognac is recognized around the world for the myriad of aromas and range of styles—from elegant and delicate to round and intense—that are unique to where it;s from and how it's made.
Once the wine has been made, regionally mandated double-distillation begins in Charentais copper pot stills. At this stage, a distiller can make many decisions that will affect the overall profile of the spirit, from keeping or removing the lees (dead yeast cells that add texture) to whether the têtes (heads) and secondes (tails) are redistilled. Then, in order to receive the Cognac name designation, the spirit must be aged in oak for at least two years. From the grain and toast of the wood barrel, to the amount of humidity within the cellar, to how long the spirit is aged, many variables affect the character of the final spirit.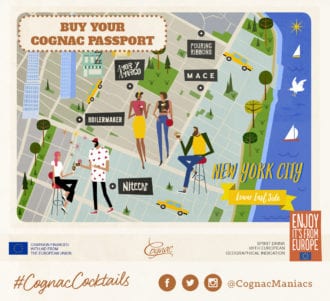 Cognac's aromatic richness, which comes from careful aging and blending, makes it an especially versatile cocktail ingredient, and it forms the base of many classics that endure today, such as the Sidecar and Corpse Reviver No. 1, as well as many contemporary recipes in bars around the world.
To discover more about Cognac, its history in cocktails and its place in bars today, visit @CognacManiacs on Facebook, Instagram and Twitter. And if you're in San Francisco or New York, don't miss the Fall Cognac Crawl in September and October, featuring inventive takes on classic cocktails featuring Cognac at bars in each city.
San Francisco, September 15-October 15. Click HERE for tickets.
New York, September 22-October 22. Click HERE for tickets.