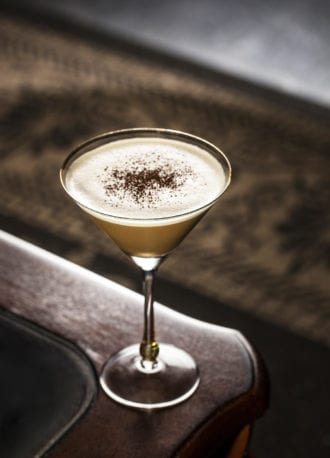 The origin story of many classic cocktails often becomes lore, but for the Espresso Martini, it's become legend. Created by London bartender Dick Bradsell in the '80s, the cocktail was said to have been mixed for an unnamed, although supposedly famous, model looking for a potent pick-me-up. Bradsell obliged with a mix of vodka, coffee liqueur, simple syrup and espresso. Originally called a Vodka Espresso before being given the Martini moniker, the drink skyrocketed in popularity. Inevitably this led to a downfall in quality, with overly sweet versions laden with syrups and creams upending the balance of the original formula. But like many nostalgic cocktails with tarnished reputations, the Espresso Martini has found new life in the hands of bartenders with a keen understanding of flavor balance and a wide range of quality ingredients at their fingertips. From minor tweaks on the original to the addition of unexpected flavors, these riffs prove the Espresso Martini still has staying power.
Dear Irving's Espresso Martini
At New York's Dear Irving, developing the perfect Espresso Martini was a personal mission for bar director Meaghan Dorman. "The Espresso Martini was always kind of my guilty pleasure drink. If I saw it on a menu, I would order it, knowing it might come out any kind of way—sometimes with Bailey's, sometimes with real espresso, and often not," she says. "So I decided to work on the Espresso Martini that I would be happy to drink over and over, and I settled on this mix of cold brew and coffee liqueur with a hint of vanilla." To mix the drink, combine 1½ oz. of vodka, ½ oz. of coffee liqueur (Dorman uses Galliano Ristretto), ½ oz. of vanilla liqueur, and 1 oz. of cold-brew coffee in a shaker with ice. Shake well and strain into a chilled coupe.
In the Heat of the Night
At Milwaukee, Wisconsin, restaurant and bar Lazy Susan, bar manager Alec Hildebrand likes to serve his Espresso Martini as a nightcap, complementing the coffee's sweet, roasty flavors with a kick of spice. "Ancho Reyes highlights flavors of cacao and cinnamon in the coffee," says Hildebrand. In a shaker, combine 1 oz. of vodka, ¾ oz. of espresso, ¾ oz. of coffee liqueur, ½ oz. of Ancho Reyes chile liqueur and ¼ oz. of simple syrup (1:1) over ice. Shake to chill, then double strain into a chilled coupe or cocktail glass and garnish with three coffee beans "for luck," says Hildebrand.
Pépé le Moko's Espresso Martini
At Pépé le Moko in Portland, Oregon, Jeffrey Morgenthaler is known for updating classics like the Grasshopper, the Amaretto Sour and the Espresso Martini. "We wanted to celebrate the original Espresso Martini, which is a fantastic modern classic, but we don't have an espresso machine," says Morgenthaler. Instead, he uses a concentrated cold-brew extract from Stumptown. And rather than simple syrup, he subs in lemon oleo saccharum. "I always liked my Espresso Martinis with a lemon twist and a tiny bit sweeter than usual." To make the drink, combine ¾ oz. of 100-proof vodka, ¾ oz. of coffee liqueur, 1 oz. of cold-brew concentrate (store-bought or brewed with 2 parts coffee to 1 part water) and ½ tsp. of lemon oleo saccharum in an ice-filled shaker. Shake well and strain into a chilled coupe.
Bar Clacson's Espresso Martini
For the house Espresso Martini at Bar Clacson in Los Angeles, general manager Dustin Newsome looked to aquavit for a more nuanced flavor. "We tested a half an ounce of aquavit (Krogstad), and it had the effect of drying it out on the palate, and hitting the mark we were going for," he says. From there, they add  Leopold Fernet, which has "enough of a strong eucalyptus note in a barspoon measure to amplify the mint in the drink." To prepare, start by making an espresso syrup by combining equal parts fresh-brewed espresso and white sugar by weight. Stir until the sugar is dissolved. Allow to cool before use and store in the refrigerator for up to 2 weeks. To assemble the drink, combine 1 oz. of vodka and ½ oz. aquavit with 1½ oz. espresso syrup, 1 barspoon Fernet and 4-6 mint leaves in a shaker with ice. Shake with a large ice cube to briefly to chill. Strain into a chilled coupe glass and garnish with a mint sprig.
The Roosevelt Room's Espresso Martini (pictured)
The Roosevelt Room co-owner Justin Lavenue says he wanted to honor Dick Bradsell's original recipe while giving the drink a flavor update, so he reached for a rich trio of macadamia liqueur, crème de cacao and a coffee-based amaro. "All of those flavors are ones that we love in a great shot of espresso, so we wanted to highlight and amplify them in our spin on the iconic cocktail," he says of The Roosevelt Room's riff. "It's balanced and incredibly complex. Espresso liqueur provides the backbone of the flavor, then the amaro offers structure with some subtle bitterness, Crème de Cacao adds depth, a touch of salt boosts the flavor, and the macadamia liqueur provides a long, nutty finish." To make the drink, combine 1 oz. of vodka with 1 oz. of espresso liqueur in a mixing tin, then add ¼ oz. each of Trader Vic's Macadamia Liqueur, crème de cacao and J. Rieger Caffè Amaro, plus ½ oz. of cream and 1 dash of salt mix (1:1 salt and water). Shake well and double-strain into a cocktail glass. Garnish with ground coffee.
---
Did you enjoy this article? Get more of the best of liquid culture when you sign up for a print or digital subscription to Imbibe Magazine. Click here for special savings!