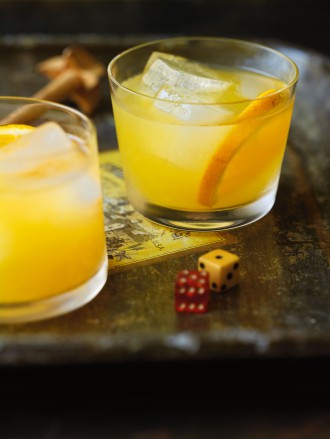 Chicago was home to gangster Al Capone, who led a Prohibition-era alcohol smuggling and bootlegging ring and later went to prison at Alcatraz in San Francisco for tax evasion. Capone's favorite whiskey was said to be Templeton rye from Iowa, which was known during the time as the "Good Stuff"—legend has it that the whiskey even made it past the walls of Alcatraz. While the infamous gangster is long gone, Templeton lives on to this day, and this recipe from Chicago bartender Lynn House brings the story of Capone back to life. It's one of 50 cocktails featured in Imbibe's book The American Cocktail.
1 tsp. grated fresh ginger
3 orange slices
1/2 oz. fresh lemon juice
1 oz. Cointreau
2 oz. Templeton rye whiskey
Tools: muddler, cocktail shaker, fine-mesh strainer
Glass: Old Fashioned
Garnish: orange slice
Muddle the ginger, orange slices and lemon juice in a shaker. Add the Cointreau and whiskey and shake well with ice. Double strain into an ice-filled Old Fashioned glass and garnish.
Lynn House, Chicago, Illinois