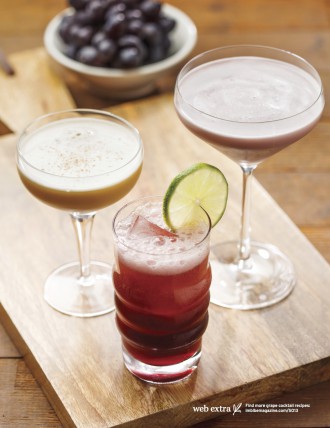 Everyone grows up eventually, but our tastes can be a different story.
Back before most of us came to think of Syrah and Chardonnay when the topic turned to grapes, the deep flavor of Concord grapes defined our relationship with the vine. Intensely purple and alluringly sweet, Concords have lent their color and flavor to everything from PB&Js to Nehi soda to Bubblicious gum, and Concords seem to have Peter Pan-like powers to transport our taste buds back to our youth.
Concord grapes were developed in 1849 by Ephraim Wales Bull, who utilized grapes native to New England (Bull lived near Concord, Mass.) to create an early-ripening variety that had a rich, hearty flavor. Densely purple with a dusty white "bloom," Concords quickly caught the eye of New Jersey dentist Dr. Thomas Welch, who in 1869 developed a method to process the juice for bottling, protecting it against fermentation so it could be used in church as a nonalcoholic communion wine.
Today, Concord grapes are cultivated in Washington, New York and several other states, and much of the crop is destined for use as juice or jam. But a growing number of bartenders are turning to the autumn-ripening Concords when looking for a long-familiar flavor that still manages to please. "A bit of whimsy comes into play when you reach for those nostalgic flavors and dress them up as adult fare," says Tona Palomino, bar manager at Trenchermen in Chicago.
Palomino's past experiments with Concord grapes included combining the juice with gin and lime and carbonating the cocktail for a sort of boozy grape soda, as well as mixing a housemade Concord grape syrup with vodka infused, or fat-washed, with peanuts, for a grownup take on peanut butter and jelly. Other bartenders are following equally flavorful paths with grapes. At The Dutch in New York, the autumn flavor of applejack is mixed with the honeyed richness of Bénédictine and puréed Concord grapes to make the Doc Holliday; and San Diego bartender Adam Stemmler mixes Concord jam with bourbon, sherry and maple syrup in That's the Jam.
For the Divide and Concord cocktail at Trenchermen, Palomino mixes fresh juice from Concord grapes with absinthe and gin for an intensely herbaceous drink with a bit of liquid nostalgia. "It's an opportunity to offer something different, and to dress up a grapey flavor in an adult way," he says.