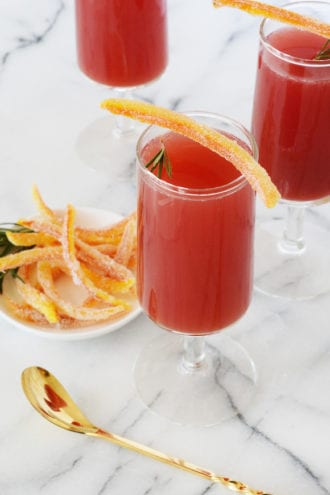 Sweet Florida oranges meet tart Washington cranberries in this new seasonal juice from Natalie's Orchid Island. The Florida-based, family-owned juice company often experiments with seasonal ingredients, and the Orange Cranberry Juice hits the mark with the bright tartness of fresh cranberry rounded out with just enough sweetness from the orange juice. While delicious sipped on its own, the juice makes a for a festive mimosa, such as this version with rosemary simple syrup and candied orange peel.
Orange Cranberry Rosemary Mimosa
Natalie's Orange Cranberry Juice
Champagne or sparkling wine
1 Tbsp. rosemary simple syrup
Tools: barspoon
Glass: flute
Garnish: rosemary sprig and candied orange peel
In a flute add equal parts juice and Champagne. Add the rosemary syrup and stir. Garnish.
Rosemary Simple Syrup: In a saucepan, combine 1 cup of sugar and 1 cup of water, then bring to a boil. Continue to boil for 1 minute, stirring until the sugar dissolves. Add 2 tbsp. of finely chopped fresh rosemary. Remove the syrup from the heat and allow it to cool. Fine strain and store in an airtight container in the fridge.
Candied Orange Peel: Score 2 oranges into quarters and peel the rind off. Cut the rind into quarter-inch strips. Place the strips in a pot with the 2 cups of sugar and 2 cups of water. Bring to a boil and then reduce to a simmer for 45 minutes. Strain the orange peels and toss them in a bowl with 1 cup of sugar. Pull apart the pieces of peel and place them on a cooking rack to dry.