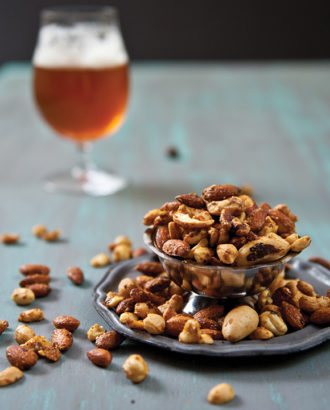 Beer nuts make the perfect bar snack, and we especially love this curried version, which finds its match in pints of spice-forward Belgian brews.
1 Tbsp. unsalted butter
2 Tbsp. brown sugar
¼ cup Belgian ale
1 tsp. garlic powder
1 tsp. kosher salt
1 tsp. curry powder
Pinch cayenne
¼ tsp. chili powder
1 lb. mixed nuts
Preheat oven to 250 degrees F. In a saucepan over medium-high heat, melt the butter with the brown sugar and beer. Boil until slightly thickened, about 6 minutes. Turn off the heat and add the garlic powder, salt, curry powder, cayenne, and chili powder; stir to combine. Add the nuts; toss to coat. Add the nuts to a baking sheet lined with a silicone mat or parchment paper. Bake for 15 minutes. Stir the nuts, then bake for an additional 15 minutes. Allow to cool completely, break apart, then transfer to an airtight container to store.
Note: The strong flavors of curry get a nice balance from a Belgian ale. Grab one that's malty and has some spice notes like cloves or cinnamon.
Reprinted with permission from The Craft Beer Bites Cookbook by Jacqueline Dodd. Published by F+W Media, Inc.