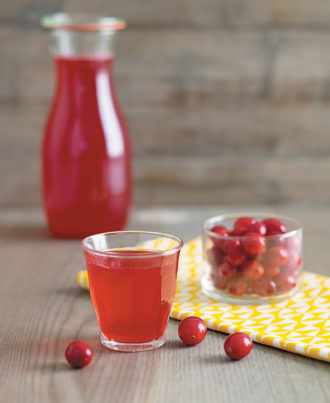 Made from tart berries simmered in water and sweetened with sugar or honey, mors dates back to the 16th century and can be made with cranberries, lingonberries, gooseberries or red currants. This Cranberry Mors from Emily Han's Wild Drinks and Cocktails is brilliant in color and velvety in texture thanks to the natural pectin in the fruit. Serve it iced as a tart, fruity refresher, or heat it up with some mulling spices and a nice splash of your favorite spirit for a seasonal toddy.
2 cups cranberries
5 cups water
⅓ cup honey, or more to taste
Juice of half a lemon (about 1 Tbsp.)
Rinse and pick over the cranberries, discarding any stems or leaves. Combine the cranberries and water in a large saucepan. Bring to a boil and cook until the cranberries burst. Remove from the heat. Using a potato masher or the back of a large wooden spoon, thoroughly mash the cranberries in the pot. Return the pot to a boil and boil for 5 minutes.
Remove from the heat. Stir in the honey and lemon juice. Cover and let cool to room temperature.
Strain through a fine-mesh strainer into a sealable container and discard the pulp. Cover and refrigerate, and use within 1 week.
Recipe reprinted from Wild Drinks and Cocktails with permission from Fair Winds Press, copyright 2015.