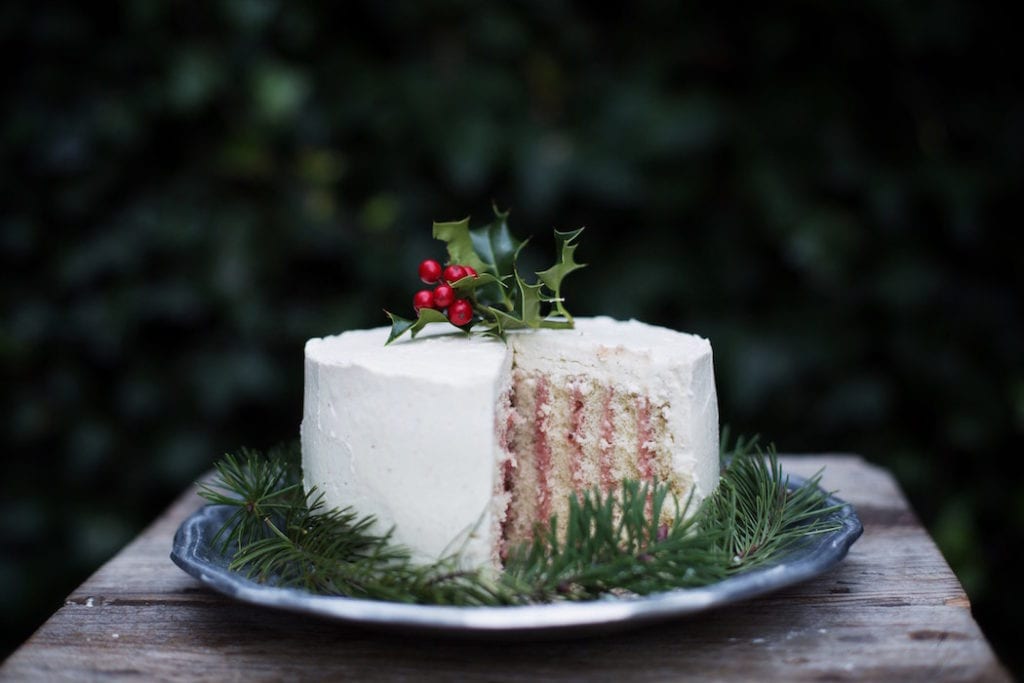 The cakes created by Tiffany Howard of the Oh Honey Bakes blog would almost be too gorgeous to eat—if they weren't so incredibly delicious. This sponge cake rolled with spiced cranberry curd and vanilla eggnog buttercream frosting combines all of the best flavors of the season into one beautiful confection.
Vanilla Sponge Cake
1 cup cake flour
1½ tsp. baking powder
¼ tsp. salt
3 eggs
¾ c superfine sugar
1 tsp. vanilla extract
2 Tbsp. water
Preheat oven to 375 degrees F. Butter and flour the cake pans and line with parchment paper. (Note: These instructions are for a traditional layer cake. To achieve the vertical roll effect, follow Howard's detailed instructions here).
Sift the flour, baking powder and salt in a medium bowl and set aside. Beat the eggs and sugar on high speed until pale yellow, about 5 minutes. Gradually add the flour mixture, mixing just until incorporated, then add the vanilla and water and gently finish by hand with a wooden spoon.
Bake for 12-14 minutes, just until the cake springs back to the touch. When cool, generously spread the cranberry curd between layers and stack the cake. Thinly ice the cake, then refrigerate for 15 minutes and coat the cake in a thick layer of icing. Decorate if desired and serve. Best if served immediately.
Spiced Cranberry Curd
12 oz. fresh cranberries
½ cup fresh orange juice
3 whole cloves
1 cinnamon stick
5 egg yolks plus 3 whole eggs
1 cup granulated sugar
¾ cup butter, cut into cubes
¼ cup lemon juice
2 tsp. lemon zest
Place cranberries, orange juice, cinnamon stick and cloves in a large, heavy-bottomed sauce pan over medium heat until boiling. Reduce heat, stirring occasionally, until cranberries pop and sauce is very thick. Set aside to cool.
Strain the cranberry mixture through a fine-mesh strainer over a small bowl, using a wooden spoon to force it through the strainer if needed. Combine ⅔ cup of the cranberry reduction, the eggs, yolks, and sugar in a double boiler over simmering water. Cook, whisking constantly, until the sugar has dissolved and the mixture is thick enough to coat the back of a spoon, then remove from heat. Slowly add the butter a piece at a time while stirring, then add the lemon juice, stir, and strain the curd into a small bowl. Stir in the lemon zest and allow to cool. Place a layer of plastic wrap directly on the surface of the curd and refrigerate. It can be stored in the refrigerator for up to 5 days or in the freezer for up to 6 weeks.
Eggnog Buttercream
1 cup (2 sticks) of butter, at room temperature
2 cups powdered sugar, sifted
1 tsp. vanilla extract
2 tsp. vanilla bean paste
3 Tbsp. eggnog
Pinch of salt
In a stand mixer with a paddle attachment, beat butter on high speed until very light and fluffy, about 8 minutes. Add the powdered sugar and mix on low speed until incorporated, then increase the speed to medium-high and beat for an additional 8 minutes. Add vanilla extract, vanilla bean paste, eggnog and salt and mix on low speed until combined. Best if used immediately.
Adapted with permission from Oh Honey Bakes. Copyright 2016, Tiffany Howard
---
Give the gift of Imbibe this holiday season. Gift subscriptions are only $19.95 each after your first $21.95 gift subscription purchase, plus you'll receive a free download of our Holiday Punch Guide, AND through 12/31, $1 of every online subscription order goes to the Red Cross! Click here for details.