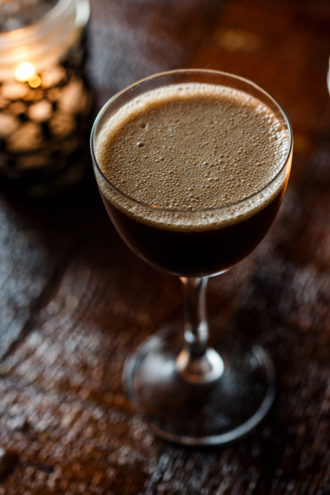 In the Pacific Northwest, coffee flows morning, noon and night, and many of the region's bartenders use it as an ingredient in drinks that reach far beyond the usual coffee-cocktail suspects. Here are three of our current favorite coffee cocktails.
46. An oddball assortment of ingredients combines into Hilltop Kitchen's inventive 46 cocktail (pictured). The Tacoma, Wash., bar shakes together 1½ oz. of aged rum, ½ oz. each of banana liqueur and crème de cacao and 1 oz. of cold-brew coffee with ice before straining into a Nick and Nora glass.
Café Nico. At the Red Star Tavern in Portland, a double shot of espresso proves a sturdy base for the Café Nico. To make it, combine 4 oz. of strong-brewed coffee, 1½ oz. of your spirit of choice (brown is better here), ¾ oz. of vanilla-infused simple syrup, 2 oz. of half-and-half and a long piece of orange peel. Shake with ice and serve in an ice-filled rocks glass and top with an orange twist.
Ode to Terry. Fancy some chocolate with your coffee? The barkeeps at Little Jumbo in Victoria, B.C., add 1½ tsp. of chocolate chips to a mug filled with 1½ oz. each of pisco and Cointreau, a double shot of espresso (or 4 oz. of strong-brewed coffee) and a pinch of cinnamon and nutmeg. Layer whipped cream over the top, sprinkle with sugar and brûlée for added dramatic effect.