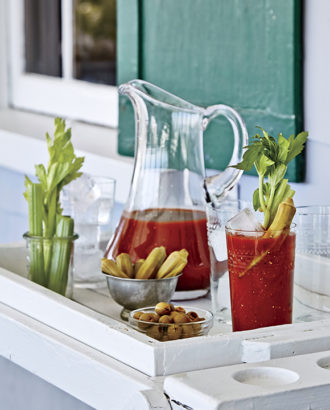 As author David DiBenedetto so aptly notes, when it comes to Bloody Mary culture in the South, "true connoisseurs make their own mixes, some with recipes as closely guarded as the family silver." In the upcoming The Southerner's Cookbook: Recipes, Wisdom, and Stories, (out 10/27), Donald Link, executive chef and co-owner of Cochon in New Orleans shares his Cochon Bloody Mary recipe. It relies heavily on some unmistakably Southern ingredients that add to the drink's savory depths. Mix up a pitcher for this weekend's brunch.
1 (46-ounce) bottle V8 juice
2 Tbps. freshly ground black pepper
2 Tbps. grainy mustard
1 Tbps. granulated garlic
3 Tbps. pork jus or beef stock
3 Tbps. fresh lime juice
5 Tbps. fresh lemon juice
7 Tbps. hot sauce, preferably Crystal brand
4 Tbps. green hot sauce
3 Tbps. red wine vinegar
2 Tbps. olive juice (the brine from a jar of olives)
3 Tbps. okra juice (the brine from a jar of pickled okra)
Vodka of choice
Tools: pitcher, stirring spoon
Glass: Collins
Garnish: pickled okra and celery stalks
Combine all the ingredients except the vodka in a pitcher and stir to combine. The mixture can be made ahead of time and kept in a sealed pitcher for up to 1 week. To serve: Fill a glass with ice. Add about 2 ounces vodka. Fill with Bloody Mary mix. Stir, garnish with pickled okra and a stalk of celery, and serve.
Excerpted from The Southerner's Cookbook: Recipes, Wisdom, and Stories by David DiBenedetto and the Editors of Garden & Gun (Harper Wave, an imprint of HarperCollins Publishers). Copyright © 2015.