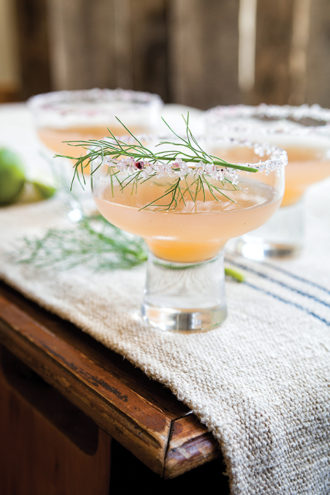 In her new book Zen and Tonic, Jules Aron (aka The Healthy Bartender) highlights cocktails with fresh fruits, veggies and juices, including this vibrant apple cider and tequila cocktail.
2 oz. apple cider
1½ oz. blanco tequila
½ oz. honey syrup (1:1)
⅓ oz. fresh lime juice
Several fennel fronds, plus 1  for garnish
Tools: shaker, muddler, strainer
Glass: cocktail
Garnish: cinnamon sugar and fennel frond
In a shaker, muddle the fennel fronds. Add the apple cider, honey syrup, lime juice, tequila, and ice and shake vigorously. Rim the glass with cinnamon sugar and fill with ice, then strain into the glass. Garnish.
Cinnamon sugar: Combine 3 Tbsp. of ground cinnamon with 1 Tbsp. of orange zest and ¼ cup of coconut sugar in a food processor and mix until powdery. Combine the mixture with another ¼ cup of coconut sugar and store in an airtight container.
Reprinted with permission from Zen and Tonic: Savory and Fresh Cocktails for the Enlightened Drinker by Jules Aron. Copyright 2016. The Countryman Press, a division of W.W. Norton and Company.