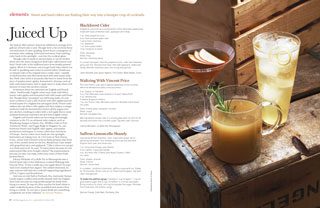 The typical 18th-century American imbibed an average of 34 gallons of hard cider a year. Though we're a far cry from those colonial levels of cider-quaffing, there's been a resurgence of artisanal cider-making, both hard and sweet, that's putting cider back in the spotlight—and into the cocktail glass.
Though cider is made in myriad styles, it can be broken down into two main categories: fresh (also called sweet) and hard. Fresh cider is the unfiltered juice from freshly pressed apples. Allow it to ferment, and you get hard cider, which can be still or sparkling and comes in several styles. Farmhouse or natural cider is the original way to make cider—usually in small batches and often fermented with wild yeasts until dry. Draft cider (sold in six-packs, like beer) is made from the juice of surplus sweet apples, fermented to dryness, and cut with carbonated water and/or apple juice to make them a bit sweeter or lower the alcohol content.
In between these two extremes are English and French ciders. Traditionally, English ciders were made with bitter, tannic cider apples and fermented with wild yeasts until bone dry. Though these "scrumpys" are still being made, it's now more common to use a mix of sweet and cider apples and cultivated yeasts for a slightly less astringent drink. French cider makers also use bitter cider apples, but they employ a unique method to halt the fermentation before all the sugars turn into alcohol, resulting in ciders with a rich apple flavor, more residual sweetness and lower alcohol than English ciders.
English and French ciders are becoming increasingly common in the U.S. as artisanal cider makers, such as Wandering Aengus in Salem, Ore., Wildfire Cider in Port Townsend, Wash., and Foggy Ridge in Dugspur, Va., use heirloom French and English cider apples, and similar production techniques, to create ciders that rival those of Europe. And as ciders move back into the spotlight, bartenders are taking note. At 116 Crown in New Haven, Conn., owner John Ginnetti sources fresh-pressed cider from one of two nearby farms for his hot, Blackforest Cider mixed with grapefruit juice and applejack. "I like it when you can get it so fresh and local," he says. "It tastes better because it's not pasteurized (like store-bought ciders)." The pasteurization process, he says, can make ciders lose some of their fresh-pressed flavor.
Johnny Michaels of La Belle Vie in Minneapolis uses a French hard cider in his Halloween cocktail Waltzing with Vincent Price. "It has a really nice true apple flavor," he says, "and more residual fruit sugars." This added sweetness, he says, marries well with the cocktail's supporting ingredients of Port, Cognac and Benedictine.
And over at Café Nell in Portland, Ore., bartender Darren Creely makes a saffron-limoncello shandy with dry English hard cider because its crisp profile keeps the drink from being too sweet. He says he often reaches for hard ciders to make cocktails because of the mouthfeel and nuance they bring to a drink. "It can turn a mixed drink into something completely out of the ordinary.