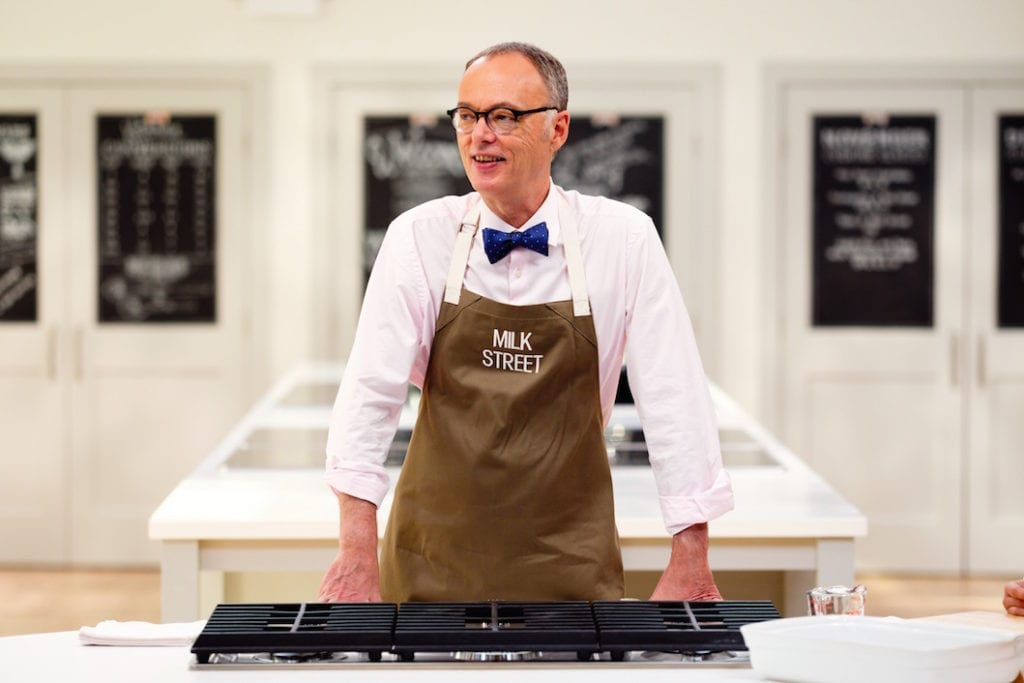 Christopher Kimball knows his way around a kitchen. For more than three decades, the New England chef has offered the ins and outs to home cooks through virtually every medium available with ventures like Cooks Magazine, multiple books, America's Test Kitchen and Cooks Illustrated. His newest venture, Milk Street Kitchen, which nods to the Boston address of the studio and workspace, again takes an all-encompassing approach with cooking classes, a magazine, cookbooks (beginning with The New Home Cooking out this month), plus a radio show and TV series, also launching this month. Remarkably, Kimball still had time to talk about what he's learned from his years in the kitchen, the new approach of Milk Street and his current cocktail obsession.
Imbibe: What inspired the more global approach of Milk Street Kitchen?
Christopher Kimball: I grew up cooking in the '70s and '80s, and foreign cooking back then was referred to as "ethnic" cooking, which is pretty horrible. But it was all fancy stuff—it was hobby cooking. I started traveling and it really occurred to me that it's all just cooking. You go to Mexico City and they don't cook Mexican food—they cook dinner. You go to Thailand, and they'll do a quick stir-fry that takes five minutes to cook and maybe 20 minutes to prep. People around the world are doing the same thing to just get dinner on the table, with different solutions for how to do that. Many of those solutions are a lot better or more interesting than the solutions I've been using for many years, which are mostly northern European. Julia Child called it Mastering the Art of French Cooking for a reason—you take high-quality ingredients, which most people can't get anyway, and you slowly coax flavor out of them through a lot of technique. But that's not what happens in most places in the world. Instead, they start with big flavors—lots of spices, lots of herbs, lots of chilies. They don't need to coax flavor out—they just need to assemble it in an interesting way.
Do you think cooking and food and drink are unifying factors across cultures?
I think you can go anywhere in the world and share a kitchen with someone, and if you're both cooks, you do share something. This isn't about chefs or fancy restaurants. This is about home cooks. Going back thousands of years, hospitality and food was the connection. I recently spoke with Ari Shapiro of All Things Considered, and he told me a story of being in the desert in an unmarked location where a bunch of Israelis and Palestinians were getting together and having dinner. They were doing it because they wanted to build a bridge, but they were doing it secretly because it would not be looked upon favorably. I thought that was a telling moment.
Milk Street Magazine features a Wine and Cocktails section in each issue. What's the typical approach there?
Stephen Meuse has been doing the wine segment on my radio show for a long time. His approach is terrific; it's not about "here's a bottle that I like," or "this month, why don't you try these Beaujolais." His approach is to teach people something about wine that they can take away that's not related to a specific bottle—whether that's how you can tell how dry a wine is by looking at the alcohol content, or what a natural wine is and what that means. You come away with a story and an idea that goes beyond what to drink. Personally, I'm fascinated by cocktails because there is such a science there and a lot of cool stuff going on.
Do you have a go-to cocktail?
Oh, yes—an Old Fashioned, virtually every night. I've been through about 25 iterations. I started with the usual, and now I'm using half rye and half bourbon. I find you need the spice and heat from the rye because bourbon is a little flat and sweet. And then I use orgeat and orange bitters and [aromatic] bitters. But I've tried a lot of other flavors, simple syrups and bitters. Growing up, I made the cocktails in the house because back in the '60s if you were 12 years old, that would be your job. And the formula never changed. There were gimlets in the summer and Old Fashioneds in the winter, but they weren't that interesting.
The corresponding Milk Street TV series begins this month. What should viewers expect?
We're doing things differently. Many times we'll start in a place around the world like Thailand, and then we'll kind of delve into the concept of the cooking and bring that home to Milk Street to work up the idea for an American audience. We've been to Peru, Mexico, South Africa, London, Thailand, Tel Aviv. We want to really understand how people think about cooking, and then use that as the starting point.
---
Did you enjoy this recipe? Sign up for our newsletter and get our favorite drink recipes of the moment in your inbox every month.