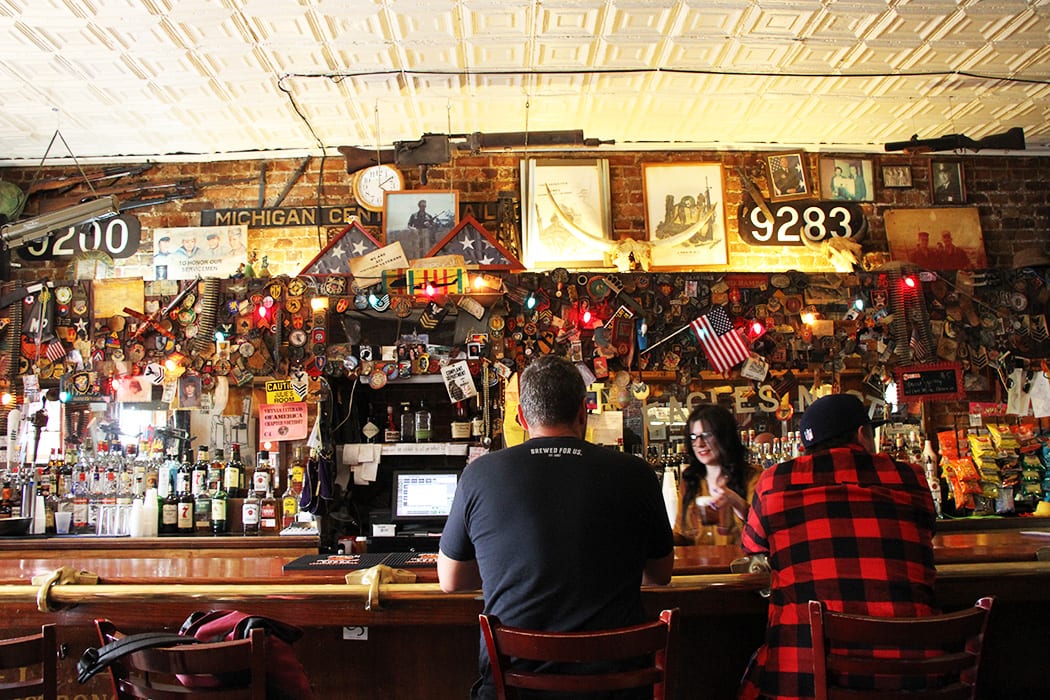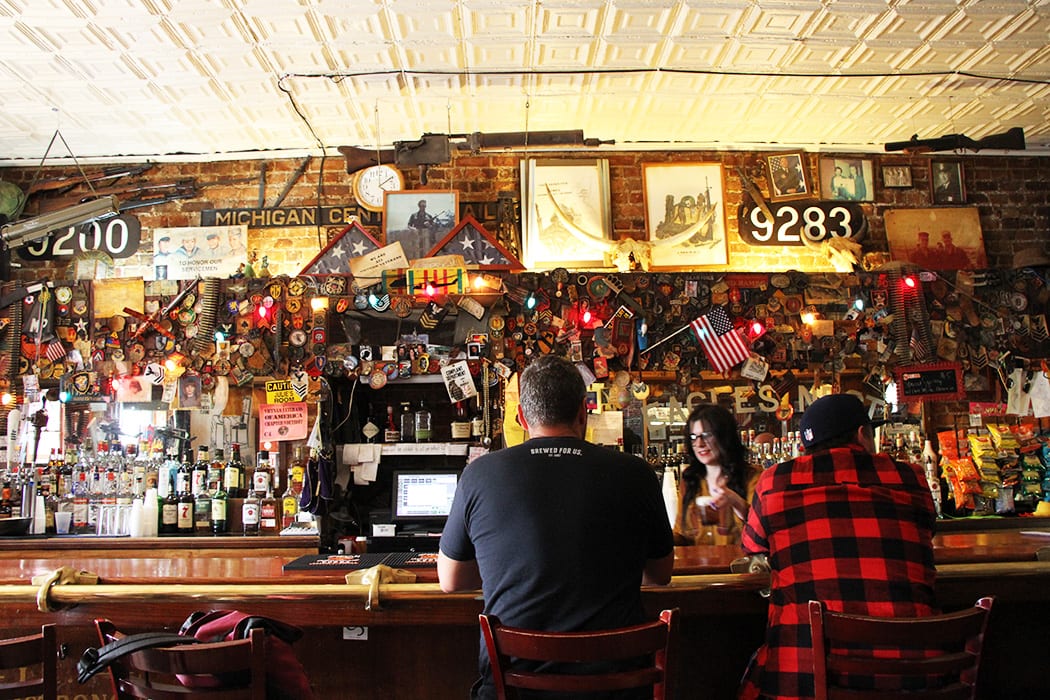 Detroit bars have come and gone over the years, but Old Miami has been an anchor of the Cass Corridor neighborhood since 1980. With it's welcoming but no-frills attitude, the Motor City dive is also one of Grey Ghost chef Joe Giacomino's favorite spots. "When we moved here, there was not a single person we met that didn't have the bar on their list of places to check out," he says. Giacomino moved to Detroit from Chicago in 2015 with his wife Jill, and they both quickly joined the legions of locals who now call the dive a favorite. "It's one of the few places that feels like it legitimately earned it's title as a dive."
The "Miami" in Old Miami refers to the phrase, "Missing in Action Michigan," a nod to the bar's original purpose of creating a meeting place for war veterans. Vietnam vet Daniel Overstreet bought the building in 1979, and from the outset it has served as gathering spot for those who have served in the military (to this day, vets are promised free entry to all events). The interior is an homage to the past. Layers of war memorabilia—patches, license plates, faded photos, dog tags—have accumulated on the walls, shelves and in the rafters. The furniture is tattered and mis-matched, and the tile ceiling has seen better days. But nothing feels out of place. "We've all been to that bar that's new construction but wants to feel like it's been around for forever, right? [Old Miami] never feels like that," Giacomino says. "From the couch that belongs in your grandpa's basement to the Sopranos pinball machine, there's nothing there that feels intentionally curated just to create a vibe. All of it is just organically what it is."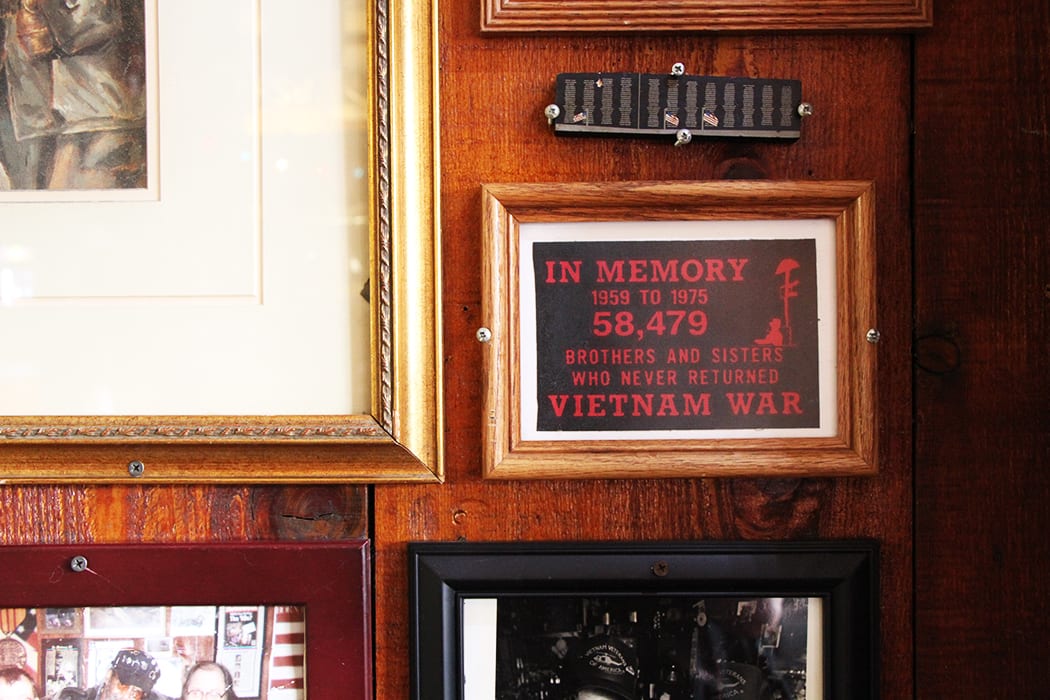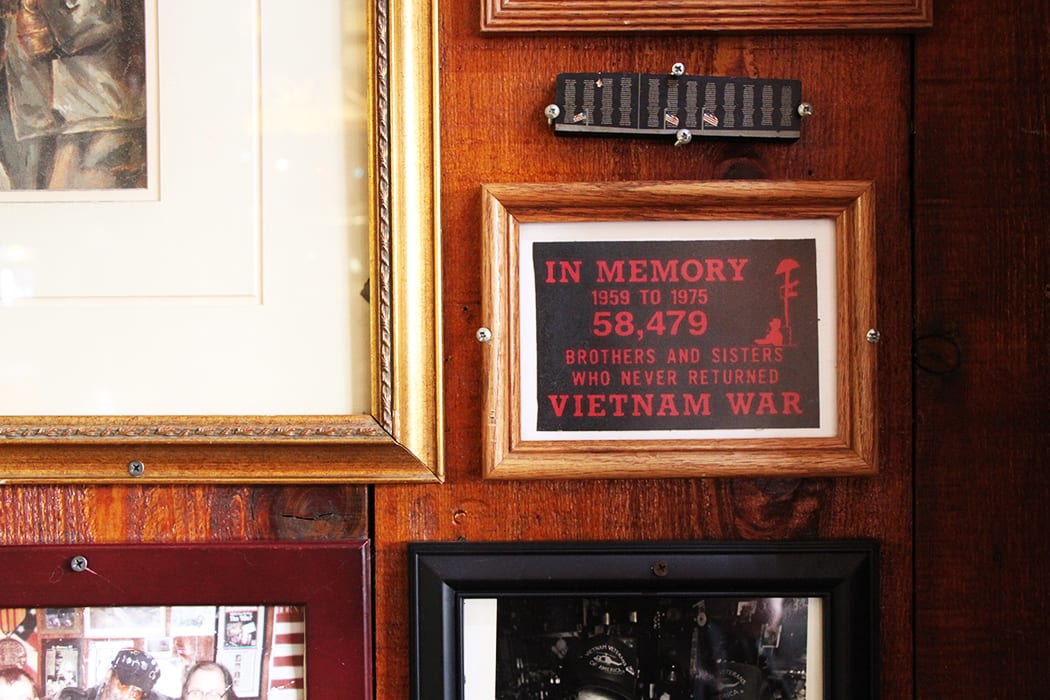 The bar has comfortably endured as the neighborhood has started to revitalize (walk down the street and you'll run into Jack White's Third Man Records, a Shinola outpost, and breweries like Jolly Pumpkin and Motor City Brewing). And as the area has grown, the clientele has also changed. In addition to serving its original community of veterans, the bar now also attracts locals of all ages, from older vets to bar industry types, families and musicians. And like the best dives, music plays a prominent role. In addition to the requisite jukebox, the bar has booked concerts for decades, earning the title of "CBGB's of the Midwest." The stage isn't much to speak of—in fact, you might miss it if you aren't looking for it—but the unassuming space has hosted acts as large as Patti Smith, The Allman Brothers and Iggy Pop, in addition to smaller local bands.
The bar's stronghold in Detroit's music community is only dwarfed by its other main draw: an enormous back patio. A collection of rickety, rusted patio furniture grows out of the grass as if it's always been there, and in addition to garden gnomes and obscure art installations, a large koi pond and bonfire space help create an easy-going backyard vibe. "It feels like you're going to a high school graduation party back there. It's massive," says Giacomino.
Unlike many dive bars, the beer selection goes beyond the standard macro lagers (though that's typically what Giacomino orders). A small selection of local beers appear on tap in addition to spirits and a few kinds of local hard cider. "A lot of dives think you have to stay with the schtick of only having cheap beer, but I think that goes back to how they're not trying too hard there. They're not trying to fit a mold," Giacomino says. "The service is always friendly, and you get to know some of the bartenders and it's so comfortable. It's not something you're going to find an exact replicate of in any other city in the world."
---
Like what you see? Get more of the best of liquid culture when you sign up for our bi-monthly magazine. Subscribe now and save up to 59%—it's just $21.95 for one year or $32.95 for two years. Click here for details.