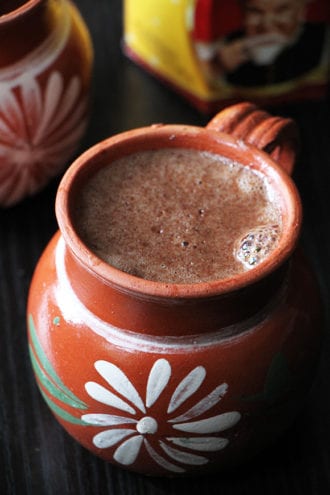 In the U.S., you don't see champurrado—a piping-hot masa-based drink flavored with chocolate—on menus very often, but with its thicker consistency and roots in Mexican culture, it's one of the best hot chocolates to spike with mezcal. Jessica Sanders of drink.well in Austin picked up her recipe from her great-aunts and grandmother, who would whip up batches with masa left over from making tamales on New Year's Eve. She uses Mezcal Vago Elote for its corn-infused goodness that mirrors the masa in the drink.
1½ oz. Mezcal Vago Elote
5 oz. hot champurrado
Tools: barspoon
Glass: mug
Garnish: fresh grated cinnamon or pinch smoked sea salt (optional)
Pour hot champurrado into a mug and add mezcal. Stir to incorporate.
Champurrado
½ cup corn masa flour
6 oz. Mexican chocolate (Abuelita discs are ideal)
3 cups whole milk (must be whole milk)
1½ cups boiling water
3 Tbsp. packed piloncillo (Mexican brown sugar)
⅛ tsp. kosher salt
Dissolve the flour into the boiling water, stirring until few to no clumps appear. In a saucepan over medium heat, warm the whole milk, stirring frequently to avoid burning. When hot, add the chocolate and piloncillo sugar and cook until all the chocolate and sugar has completely dissolved. (Note: Cutting the chocolate into smaller chunks expedites this process.) Once the chocolate has dissolved, slowly add the hot masa flour water, stirring regularly. Continue to simmer and stir until the beverage is thick. Add the salt at the very end and stir. Yields approximately 1 liter (or 6 individual servings), and can be kept hot in an air pot for 4–6 hours.
Reprinted with permission from Mezcal: The History, Craft & Cocktails of the World's Ultimate Artisanal Spirit. Photo and text copyright Emma Janzen. Published by Voyageur Press, an imprint of The Quarto Group. 
---
Did you enjoy this recipe? Sign up for our newsletter and get our favorite drink recipes of the moment in your inbox every month.