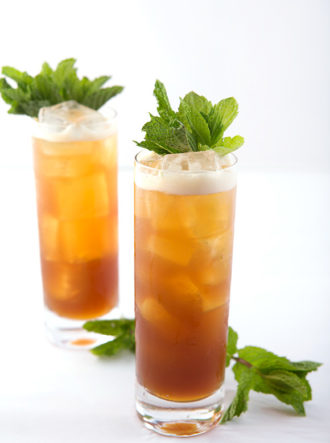 Mojitos are all about the mint, and for an extra minty kick, the team at Austin's Drink.Well swaps out rum for Branca Menta in this refreshing Mojito riff.
1½ oz. Branca Menta
¾ oz. brown sugar mint syrup
½ oz. fresh lime juice
2 dashes Angostura bitters
2 oz Fever Tree Sparkling Lemon Soda
Tools: shaker, strainer
Glass: Collins
Garnish: mint bouquet
Combine all ingredients except the soda and shake with ice to chill. Strain into a Collins glass over fresh ice. Top with soda and garnish with a bouquet of fresh mint.
Brown Sugar and Mint Syrup
8-10 mint leaves
1 cup brown sugar
1 cup water
Tools: saucepan, spoon, strainer
Combine the sugar and water in a small saucepan over medium heat and stir until the sugar dissolves. Steep the mint leaves for 10 minutes in the syrup. Strain out the leaves, cool and bottle the syrup. Refrigerate for up to 2 weeks.
Jessica Sanders, Drink.Well., Austin