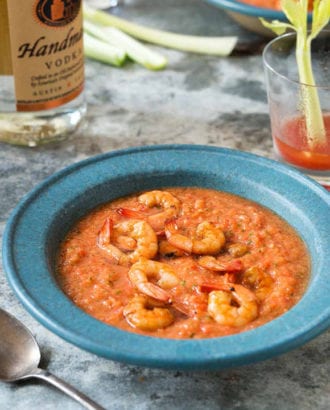 Travel Channel show host Adam Richman brings the savory goodness of the Bloody Mary cocktail to the dinner table with his cool summer gazpacho recipe. The vodka, as usual, is optional.
6 ripe plum tomatoes, chopped
1 red onion, diced
1 cucumber, peeled, seeded and chopped
1 red bell pepper, seeded and chopped
2 celery stalks, diced
1 garlic glove, minced
¼ cup olive oil
¼ cup olive juice (from a jar of green olives)
1 Tbsp. Tabasco
2 Tbsp. fresh lemon juice
½ cup chopped fresh cilantro leaves
Kosher salt and freshly ground black pepper to taste
1 lb. small shrimp, peeled
½ cup Worcestershire sauce
2 Tbsp. unsalted butter
In a large bowl, combine the tomatoes, onion, cucumber, bell pepper, celery, garlic, olive oil, olive juice, Tabasco, lemon juice, and cilantro. Season with salt and pepper. Using a hand blender, blend the ingredients until well combined in a soup-like consistency. Place the mixture in a nonmetallic, nonreactive container, cover tightly, and refrigerate for at least 4 hours or overnight to let the flavors blend.
About an hour before serving, in a shallow bowl combine the shrimp, vodka, and Worcestershire sauce. Cover the bowl and refrigerate for 30 minutes. Strain the shrimp from the marinade and pat it dry. Discard the marinade. In a large skillet set over high heat, melt the butter. Add the shrimp to the skillet and sauté until fully cooked, 3 to 4 minutes. Ladle the gazpacho into individual serving bowls. Divide the hot shrimp among the bowls and stir to combine. Serve immediately.
Reprinted with permission from Straight Up Tasty by Adam Richman, host of "Secret Eats with Adam Richman," on Travel Channel.