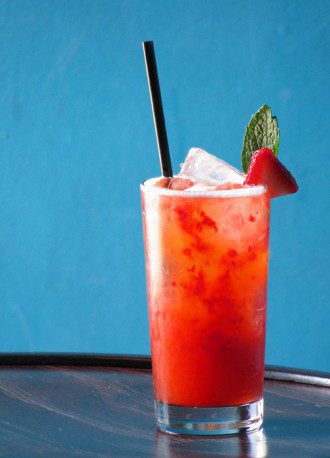 Want to make the most of berry season? Here are 10 cocktails that showcase the best of summer's sweet bounty.
Artemis Flower
Named after the goddess of the hunt, this twist on strawberry limeade balances rich bourbon and sambuca with fresh strawberry and thyme.
Bourbon Street (pictured)
Bourbon and fresh strawberries are a match made in cocktail heaven, and the ginger and honey syrups make this drink even more delicious.
Champagne Whiskey Punch
Joy Richard originally made this punch for a summertime meeting of LUPEC (Ladies United for the Preservation of Endangered Cocktails), but it can easily be enjoyed all year-round.
East Aspen Heights
An herb-infused simple syrup amplifies the herbaceousness of gin and Chartreuse in this berry- and pear-studded sipper.
Homemade Pimm's
Based on its namesake spirit's flavors of gin, fruit and spice, this homemade version is mixed with sparkling lemonade for the perfect garden party punch.
La Valentina
This refreshing beer cocktail is at once sweet and tart with a little bit of bite.
Philly Smash
Peppery rye whiskey meets up with a mishmash of seasonal berries in this frosty sipper.
Strawberry Cooler
Vodka, vermouth and fresh strawberries make for a light and refreshing cocktail that you'll want to revisit all summer long.
Strawberry Shrub Swizzle
This swizzle pairs a fresh strawberry shrub with a zesty ginger beer and aged rum for a firecracker of a summer sipper.
The Blues Cocktail
This bold, berry cocktail will have you singing anything but the blues. A simple combo of gin, lime juice and fresh blueberries, it's pure, summertime deliciousness.