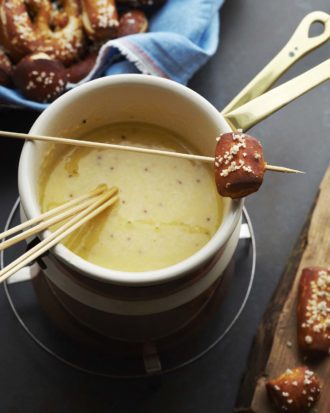 Beer and pretzels are a dynamic duo, and this irresistible dip from Andrea Slonecker's book Pretzel Making at Home adds melted Gruyère to the mix. Grab a soft pretzel (Slonecker offers several recipes in her book) and go for a dunk. This fondue also makes a splash with sliced German sausages, pickled garden vegetables, and roasted Brussels sprouts.
1 cup pilsner-style beer
1 lb. Gruyère cheese, shredded
1 Tbsp. cornstarch
2 tsp. Dijon mustard
Dash of Worcestershire sauce
Pinch of paprika
Fine sea salt, such as fleur de sel or sel gris
Bring the beer to a boil over medium-high heat in a fondue pot or a medium heavy saucepan. Reduce the heat to medium-low so the beer is gently simmering. Toss the Gruyere with the cornstarch in a medium bowl. Add the cheese mixture to the beer one large handful at a time, stirring the cheese in a figure-eight pattern until completely melted before adding more. Stir in the mustard, Worcestershire sauce, and paprika, and season with salt. Serve immediately. The fondue can be refrigerated, covered, for up to 2 days and then rewarmed over medium-low heat, stirring in a figure-eight pattern, until the cheese is melted and hot. Serves 6 to 8.
Recipe reprinted with permission from Pretzel Making at Home (copyright Andrea Slonecker, 2013), published by Chronicle Books