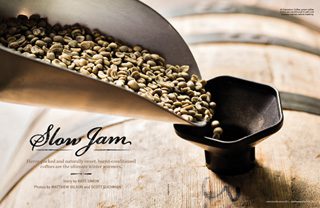 The oft-recited edict in coffee circles is "fresh is best," meaning the quicker a coffee bean goes from farm to cup, the better. But a handful of coffee roasters are experimenting with resting green coffee beans in oak barrels that once held bourbon, red wine or even absinthe, in search of the ultimate flavor boost. It's a move that harkens back to the early days of the coffee trade, when beans were shipped in whatever barrels were on hand. Modern versions can be wildly aromatic, rich and fruity, with notes of lollipops, jelly doughnuts or whiskey and a smooth sweetness that inspires after-dinner sipping. These barrel-conditioned brews are supercharged with flavor and poised to spark a dessert-coffee renaissance—and it all started with a "what if."
"It came about from our experiences with green coffee beans," says Ronnie Haas, director of wholesale at Ceremony Coffee in Annapolis, Maryland. Haas started experimenting with barrel conditioning in 2012. "The longer green coffee sits in burlap the more it tastes like burlap. If it's near anything that has a really strong odor in transit—like diesel fuel—then it picks up that odor. So the thinking was, if green coffee's fairly spongy by nature, what would happen if we try to influence it positively by throwing it into dry, clean, but really redolent barrels?"
It was a question inspired by Haas' visits to the now-defunct Annapolis bar Punk's, where owner Dave McCabe was barrel-aging Manhattans. "I wondered if bourbon would taste interesting as a backnote in coffee?" Haas recalls. "Would it add anything? Would it be distracting?" He didn't have immediate access to a bourbon barrel, but he scored two Cabernet barrels from a local winery, Great Frogs. For their initial experiments, he and his colleagues at Ceremony chose two clean, easy-drinking coffees—a Pacas/Mundo Novo from Mexico's Chiapas Highlands and a Caturra/Typica from Colombia's Pedregal region—in an effort to start with as blank a slate as possible. "We wanted to start with slightly more classic coffees, to see what the barrel would do to them, and if we could taste the barrel," Haas says.
Both batches were a success.
"They popped," he recalls, coming out of the barrels notably brighter, with a sharper perceived acidity and raspberry jam and red-candy notes. "To take a coffee that had a mellow, round acidity and give it something more interesting was cool."
Ceremony's subsequent barrel releases, like a Colombian Pedregal conditioned in a port barrel and, more recently, an Ethiopian Yirgacheffe rested in a bourbon cask, have also been well-received. "Every series we did sold out within a week," Haas says of Ceremony's initial barrel releases. The response prompted the team to make it a regular offering, dubbed the Barrel Conditioned Series. Each release has been unique, with flavor notes that can be so wild they sometimes don't even resemble conventional coffee, instead bringing to mind flavors like grape soda, red licorice, blueberry muffin or bourbon. "There's a hint of coffee in there, I think," Haas quips.
Spirited Collaboration
While Haas' muse was an aged cocktail, other roasters have followed different paths to the barrel. The craft beer scene inspired Jesse Diaz, founder of Chicago's Dark Matter Coffee, to start experimenting with barrel-aging coffees earlier this year. "We have a good working relationship with multiple breweries in Chicago," says Kyle Hodges, Dark Matter's "minister of propaganda." "Microbreweries have used our coffees in porters and stouts. It got us to thinking: What can we do with barrels?"
Their friends at Goose Island Beer Company gave them two bourbon barrels that the brewery had acquired from Kentucky's Heaven Hill Distilleries but hadn't yet used. The Dark Matter team stowed a batch of sun-dried Mexican Typica beans in one of the barrels, and when they released it months later, it was an instant hit, displaying aromatic notes of coconut, vanilla and grape candy. "What we're doing is not a New World concept—it's very Old World," says Diaz, noting that in the 17th and 18th centuries, when traders like the Dutch East India Company transported coffee across oceans, they used whatever barrels they had on hand, which may have previously held salt or pickles, Cognac or rum.
Compared to those pickle-brine coffees of yore, Dark Matter's upcoming barrel releases sound downright tame—even the lemon-forward Ethiopian coffee that's picking up licorice notes in a former absinthe barrel from Chicago's Letherbee Distillers. Also in the queue are millet and oat casks acquired from another Chicago distiller, Koval, as well as barrels that once held gin, rye whiskey and cider.
Used barrels don't always come cheap. Though roasters are resourceful and sometimes score barrels from neighboring distilleries or wineries for free or at bargain prices, a single cask on the open market can go for $500 or more. Add the cost of a 150-pound sack of coffee beans, and you might have a $1,000 experiment, so it's imperative that roasters know their coffees well, and take the time to understand the nature of the barrels they're working with, as well as the properties of the spirits they once housed, Diaz notes. "It's all in the spirit of collaboration," he says. "Going out of the way to understand their products, and trying to create something that's unique to both products involved."
It also means choosing the right coffee to pair with each barrel. At Dark Matter, Ceremony and the handful of other roasteries that are using casks, the coffee and barrel pairings are preceded by a lot of forethought and many team cuppings. And once a batch of coffee beans goes into a barrel, it's monitored closely via a regular schedule of smell tests and sample pulls. Still, things can go awry.
In the early stages of experimenting, Ceremony had to scrap a rye-barreled coffee. "We dropped coffee into it too early," before the whiskey barrel was dry enough, Haas recalls. "We could tell right away—something smelled off. We have a moisture meter now."
Indeed, without any guidelines to follow, certain tools offer welcome assistance to roasters who are tiptoeing into the largely unexplored world of barrel-conditioned coffee. "With the moisture meter we can test the moisture content of the coffee going in and coming out," says Haas. "And we've got a Javalytics [roast-color analyzer] so we can roast the unconditioned coffee to peak and look at it to see what's going on from a color perspective."
Moisture is a key variable in coffee roasting in general, but particularly in barrel-aged coffees, where the time in oak can actually rehydrate the beans, and plump them slightly to a moisture level more closely resembling the state they were in when they first left the farm. "In Central America, coffees are picked in December and they're rested, cured and taken to a level of moisture where it is consistent to export without mold but without losing a lot of the terroir," Diaz explains.
The beans dry more as they're bagged and shipped and stored in a roastery for days, weeks or even months. "We're trying to bring coffees back up to the moisture level they are at when they leave origin. So we're really watching where those moisture contents are rising and how much they're absorbing from the oak, and we're controlling that environment—not letting them get too moist or not moist enough before we pull them and sample them," says Diaz.
Dessert Cup
"I didn't want to just experiment," says Denver-based roaster Tal Fishman, who debuted Whiskey Barrel Coffee in 2012 under hisEspresso Smith label. "I wanted to develop a process that I can re-create."
An avid whiskey fan, Fishman had long noticed similarities between coffee and bourbon before his curiosity led him to start experimenting with spent bourbon barrels in 2011. He wanted to combine his two passions—coffee and bourbon—but, he says, "we didn't want a flavored coffee."
What he wanted was the ultimate dessert coffee. "Everybody drinks breakfast coffees, but nobody serves coffee with dessert anymore," he says, pointing to his early days growing up in Israel and the time he spent touring Europe in his twenties, where he enjoyed the tradition of after-dinner coffee. "We tried soaking coffee in whiskey, but it's not the same—the barrel is so important; it adds caramel notes, smokiness and a sweet, smooth finish."
Fishman trudged through two years of experiments—"tasting a lot of good and bad whiskey coffees"—until he finally arrived at his goal: a coffee he and his wife could serve after dinner when they have friends over. "We also use it in desserts like bread pudding," he says.
In addition to being perfect for cozy winter evenings, the juicy sweetness that conditioned coffees tend to inherit from the barrel also makes them a hit in cold-brew. "The whiskey flavor brings out the natural sweetness in the coffee, and because of that we made it one of our standard cold-brews," says Jeremy Moore, the founder of BonLife Coffee near Chattanooga, Tennessee, where he and his brother Rob have been working on their Tennessee Whiskey Barrel Aged Coffee since December 2012, using Nicaraguan beans and spent barrels from various distilleries, including the Chattanooga Whiskey Company.
Likewise, in Chicago, Dark Matter spun its bourbon barrel–aged Mexican El Eden into a bottled iced-coffee concentrate dubbed Black Splash, which made a strong debut earlier this year. It sports a boozy bourbon nose with waves of vanilla and rich molasses undertones. "We can't keep it in stock," says Hodges. "We're having to scramble—in a good way—to make sure we're keeping up with our normal production."