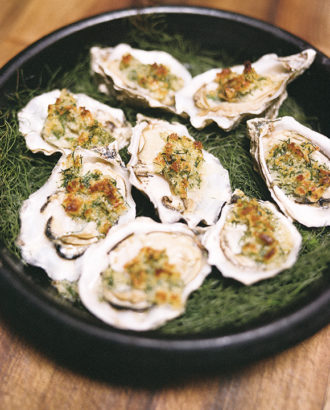 For the baked oysters served at Russell Moore's Camino in Oakland, the splash of absinthe may seem like a minor addition. But the herbaceous spirit highlights the aromas of fennel and mint and demonstrates Moore's knack for precisely pairing flavors in his dishes. "We serve them with different side salads—red daikon, fennel, yacón—as a little accompaniment," he says.
½ large fennel bulb with fronds
1 stick unsalted butter, softened to room temperature
1 scallion
6 mint leaves
Splash of absinthe
¾ cup breadcrumbs
Salt
24 oysters
Preheat oven to 500 degrees F (or as hot as your oven will go without burning your house down). Trim the fennel, reserving a handful of the fronds for the filling and saving the rest of the fronds and the stems to line the baking dish. Finely dice the trimmed fennel bulb, then sauté it in 1 tablespoon of the butter for about a minute. Add a splash of water and cook until tender, about 2 more minutes. Split the scallion lengthwise, then cut it into fine slices. Finely chop the mint and the handful of fennel fronds. Work them together with the scallion, cooked fennel, absinthe, breadcrumbs, a pinch of salt and the remaining butter. If the butter is not well incorporated, you will end up with pools of butter in the oyster shells. Use an oyster knife to shuck the shellfish, leaving the oyster on the half shell and taking care not to spill the flavorful liquor. Set the shells carefully in a baking dish lined with the rest of the fennel stems and fronds to hold them upright. Put about a tablespoon of the breadcrumb mixture on top of each oyster and bake until the breadcrumbs are brown, approximately 6 minutes.
Recipe and photo reprinted from This is Camino. Copyright 2015 by Russell Moore and Allison Hopelain with Chris Colin. Published by Ten Speed Press, an imprint of Random House.