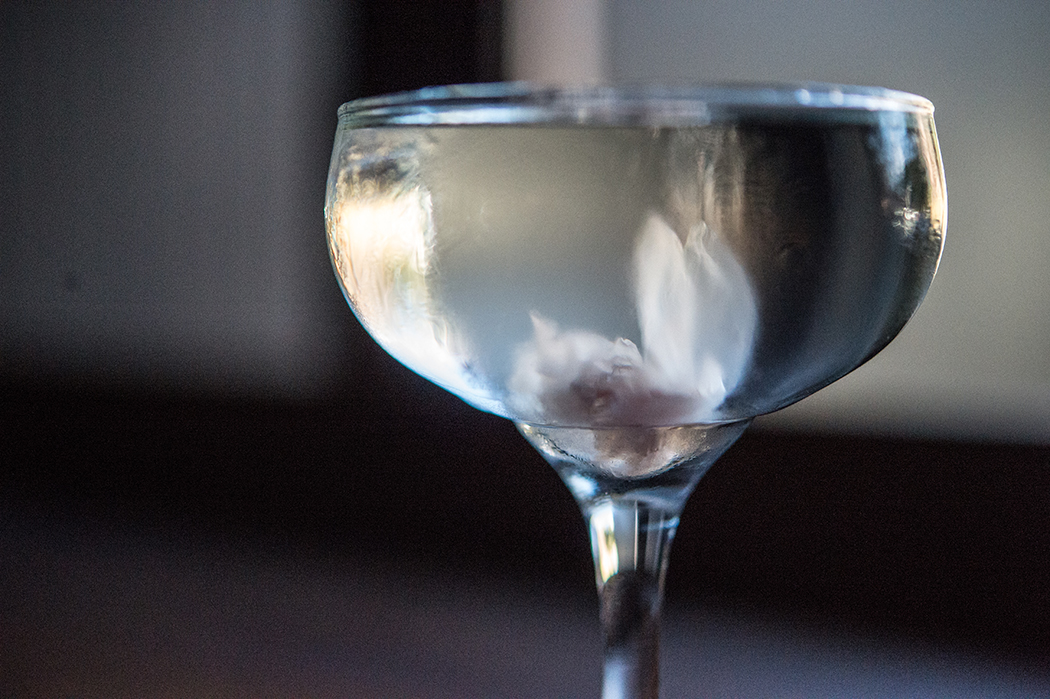 Across the U.S., restaurateurs have been approaching Asian-fusion with more authenticity and creativity than ever before, with bar programs to match. Bartenders are interpreting the style by using ingredients like shiso leaves or sweet potatoes, or even creating bold new flavor combinations like milk punch with matcha or rye whiskey with garam masala. Here are a few spots where inspiration is the new fusion.
Bar Goto, New York City
After seven years at SoHo's Pegu Club, Tokyo native Kenta Goto opened his first solo project this summer with Bar Goto. Compared lovingly to a bento box, the dimly-lit, 600-square-foot space puts the focus on artfully curated cocktails and Japanese bar snacks like the miso chicken wings and a variety of okonomi-yaki (savory cabbage pancakes). Try Goto's Sakura Martini (pictured), made with saké, gin, maraschino liqueur and a salted cherry blossom, the savory Umami Mary with miso and shiitake-infused vodka or the vibrant Matcha-Sesame Punch.
Hot Joy, San Antonio
Decorated with neon lights, Japanese lanterns and ninja cats, San Antonio's Hot Joy is like a cross between an Asian street market and a carnival. Equally vibrant cocktails come in the form of the Bad Yamma Jamma with white and agricole rums, lime juice and purple yam paste topped with orange flower water. "We focus on bright, punchy drinks—lots of citrus and rum with a few boozy numbers in the mix," says bar director Elizabeth Forsythe. "We like to incorporate a lot of the same ingredients the kitchen uses like tamarind, wasabi and Thai basil."
Naka, Seattle
Opened this past summer, Naka is chef Shota Nakajima's showcase for kaiseki, traditional Japanese dinners featuring up to 15 courses. The bar program, headed by Nik Virrey (Liberty Bar, Slate Coffee), takes subtle influence from the cuisine—sneaking in elements like sweet potato syrup and shiso leaf—yet stands independent as Virrey gets experimental with ingredients like apple cider vinegar, pecan syrup and even charcoal. Don't leave without trying the signature GiNaka Tonic, with version #2 currently featuring Copperworks Gin, Bradley's Kina Tonic, allspice liqueur and apple cider vinegar.
Yusho, Chicago
One can choose from more than 42 bottles of Japanese whisky at Yusho, where piping-hot bowls of ramen and puffy steam buns co-exist with a drinks menu featuring a dozen saké options and playful "booze sodas." Some mimic classic Japanese beverages, while others mix ingredients in non-traditional ways, like the Longevity with Genshu Imo Shochu (undiluted Japanese sweet potato distillate), rum, vermouth, amaro and house bitters. "Our goal is not only to create uniquely Asian-inspired cocktails, but also drinks that can please our guests and compliment a variety of foods," says bar manager Dylan Melvin. 
Smallwares, Portland, OR
Billing themselves as "inauthentic Asian," the crew at Smallwares (and adjacent lounge Barwares) gets playful with Asian ingredients and flavors in their small plates and craft cocktails. A well-curated saké selection breaks down choices into flavor profiles like fruit, earth and flower. The cocktails are approachable, simply named after their base spirit with a few eclectic additions. The Rum combines black cardamom, tamarind and honey, while The O.G. Whiskey is simply Old Overholt Rye and garam masala (the aromatic spice blend common to north Indian and south Asian cuisine).
Bao Bei Chinese Brasserie, Vancouver, BC
It's a toss-up for what sounds more tempting at Bao Bei, the petite plates for sharing like the wok-charred octopus salad or lamb sirloin on sesame flatbread, or the playful Asian-inspired cocktails. The Chino Margarita mixes tangerine peel-infused tequila with ginger, lime and egg white with a chili salt/sugar rim, while the Guizhou Donkey riffs on a Moscow Mule with lemongrass-infused shochu, almond syrup, lime and ginger beer.
Hinoki & the Bird, Los Angeles
Named after the Japanese hardwood that permeates all elements of the restaurant, Hinoki & the Bird is chef and restaurateur David Myers' tribute to his travels along the Silk Road. The cocktails are divided into categories like Crisp and Refreshing or Bold and Gradual, with the Asian influence evident in subtle additions like Szechuan pepper and shiso. The appeal is in the freshness and simplicity of the drinks, like the Nakatomi Plaza with whiskey, plum wine and fresh-pressed green apple.