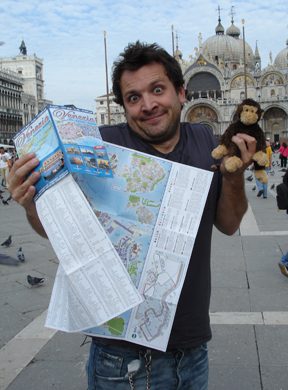 Funnyman Zane Lamprey is probably best known for his wildly popular, travel show Three Sheets, where he takes in local drinking customs in cities around the world. Having just set out on his nationwide comedy tour, the television host and author of the recently released Three Sheets: Drinking Made Easy (Villard, 2010) took a few minutes to chat with us about becoming a professional imbiber, discovering snake-infused rum and his favorite poolside sipper.
Imbibe: You've said that you became an accidental expert in imbibing, but how does one become a professional drinker by chance?
Zane Lamprey: I went in and auditioned for a show called You Should Open a Restaurant on the Food Network, and was told that I was over qualified for it. They said, "You know, there's this show called Three Sheets that we've been working on where we follow the host around the world drinking, would that be something you're interested in?" And I'm like, "Well, yeah." I went home expecting nothing to come from it, but then about three weeks later they called me up. We shot the pilot a month after that and were off and running with no looking back. It's been four seasons—52 episodes—it's been an amazing ride.
Imbibe: You're a self-professed geek and you're new book is full of facts and historical anecdotes—what were you most surprised to learn in your research?
Lamprey: The whole thing was a pretty sobering experience. Just culling all of the information [for the book] I realized how much I'd learned since we started the show. For each episode we go out and shoot three or four days in a specific country or city and end up with somewhere around ten hours of footage. Of that only 22 minutes make it to air, so there's a lot more that we learn about that doesn't make it into the show. I drew from all of those experiences in writing the book.
Imbibe: What's been the most memorable drink you've imbibed throughout your travels?
Lamprey: That's easy—it would have to be viper rum in Belize. It's a bottle of over-proof white rum that they put a live snake in. The snake dies, it goes on the shelf for a year and then you drink it.
Imbibe: Poor snake!
Lamprey: Poor snake? Poor drinker! The visual of it was incredible—it's a perfectly preserved snake that looks like it came from a science lab. But the taste was something else. Can you imagine what a snake smells like? That's what it tastes like. It just tastes like snake. It's really, really horrible.
Imbibe: Any pleasant surprises along the way?
Lamprey: Every time we shoot an episode we get surprised. I first thought Cognac was something only for rappers and snooty French people, but once you go and experience the process and learn the history you become a fan. That's sort of the blessing and the curse about learning about these things, you learn about what makes a 25- or 50-year-old scotch so nice and you get kind of spoiled. You have to taste something, learn its history and meet its people to fully complete the experience.
Imbibe: Being based in Los Angeles, do you have any favorite bars when you aren't traveling?
Lamprey: I always want to try something new and often don't go to the same bar twice. I think that's why I've embraced Three Sheets so well—I really am genuinely interested in trying new things and I think that really comes across to the viewers.
Imbibe: What your most prized possession in your home bar?
Lamprey: There's this Polish vodka called Miodula. It's aged in oak barrels and infused with honey—it's amazing. Not sweet. If you think about the actually flavor of honey without the sweetness, that's what Miodula tastes like. I like its subtleness and drink it neat. I'm saving my bottle for a special occasion and haven't cracked it just yet.
Imbibe: Any guilty pleasures when it comes to drinks?
Lamprey: I think it's probably a Mojito. It's one of those sweet things that people say they don't like to drink, but I think secretly they do. Even if I'm not making it myself, if I'm sitting by a pool and you put a Mojito in my hand, yeah, I'll drink it.