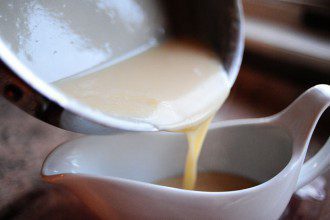 Pecan pie, cinnamon rolls, chocolate cake…there's no limit to where you'll want to use this whiskey maple cream sauce created by author and TV host Ree Drummond.
1 ½ cup heavy cream
5 Tbsp. maple syrup
3 Tbsp. light corn syrup
1 Tbsp whiskey (or more to taste)
Combine the cream, maple syrup and corn syrup in a saucepan and stir to combine. Cook over medium-low to medium heat, stirring constantly, for 15 minutes or until sauce is reduced and thick (sauce should bubble slightly as it's cooking). When the sauce has thickened, remove from heat and stir in the whiskey. Return to medium-low heat for a couple of minutes, stirring constantly. Pour into a container and refrigerate until completely chilled. Stir before serving.
Ree Drummond, author of The Pioneer Woman Cooks: Recipes from an Accidental Country Girl and The Pioneer Woman Cooks: Food from My Frontier, host of The Pioneer Woman on the Food Network and keeper of thepioneerwoman.com