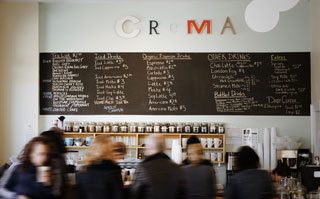 Toronto may have been slower than its West Coast counterpart, Vancouver B.C., to adopt the specialty coffee craze, but now it's making up for lost time. New coffeehouses and roasteries are popping up around the city, and the sipping is better than ever. Here are some highlights of Toronto's fast-growing bean scene.

B is for barista at this duo of sleek, Italian-inspired espresso bars.
111 Queen St. E., 416-866-2111; 273 Bloor St. W., 416-506-0001
Former barista champion and Bulldog founder Stuart Ross custom roasts a seven-bean, three-origin blend for this serious espresso bar. Not in the mood for a shot? Try the Blanco Bull Dog, a dark-on-white hot chocolate.
89 Granby St., 416-923-3469; 55 Eglinton Ave. E.
Beans from Toronto's Dark City Coffee take center stage at this retro-styled coffeehouse and bakery in the Roncesvalles district.
79 Roncesvalles Ave., 416-516-8212
Crema (pictured above)

Owner Geoff Polci has an eye for the technical details—like Clover coffee and perfectly dialed-in espresso—and a taste for beautifully roasted beans like those from Toronto's Detour Coffee Roasters.
Four locations around Toronto.
Serving locally roasted Detour espresso in four gorgeous, modern locations. Home to 2012 Canadian Barista Championship finalist Georgia Henry.
Four locations around Toronto.
This popular local roaster has a café of its own, where it highlights its latest origin coffees and blends.
41 King St. W., 289-238-8360
This spare, airy espresso bar from 2012 Canadian Barista Championship finalist Sameer Mohamed served locally roasted Te Aro coffees brewed five ways.
120 Lombard St., 647-896-1774
Stumptown coffee with a side of eclectic-modern style in Little Italy and High Park.
221 Roncesvalles Ave., 416-538-9700; 810 College St., 416-519-1884
Intelligentsia coffee brewed on a Clover or espresso-style in Kensington Market.
426 College St., 416-966-3888
This friendly Leslieville coffee bar features premium beans from MadCap Coffee and George Howell Coffee.
915 Queen St. E., 647-435-4779
With three locations, this ultra-hip coffee stop keeps Toronto's glitterati caffeinated.
Three locations around Toronto.
With its bags of beans themed after the periodic table of the elements, Sense Appeal's coffee is recognizable all around the city, and there may be no better place to sample the goods than at the company's own café.
96 Spadina Ave., 416-907-8524
This New Zealand–inspired coffee roaster specializes in rare origin coffees and artisanal blends.
983 Queen St. E., 416-465-2006; 135 Ossington Ave., 416-465-0273
Named for the albino squirrels in the adjacent Trinity Bellwoods Park, this quirky, eco-friendly coffee and ice cream shop offers a double dose of cuteness.
907 Queen St. W., 647-428-4478